Coal town awash with colours
international art fair holds out promise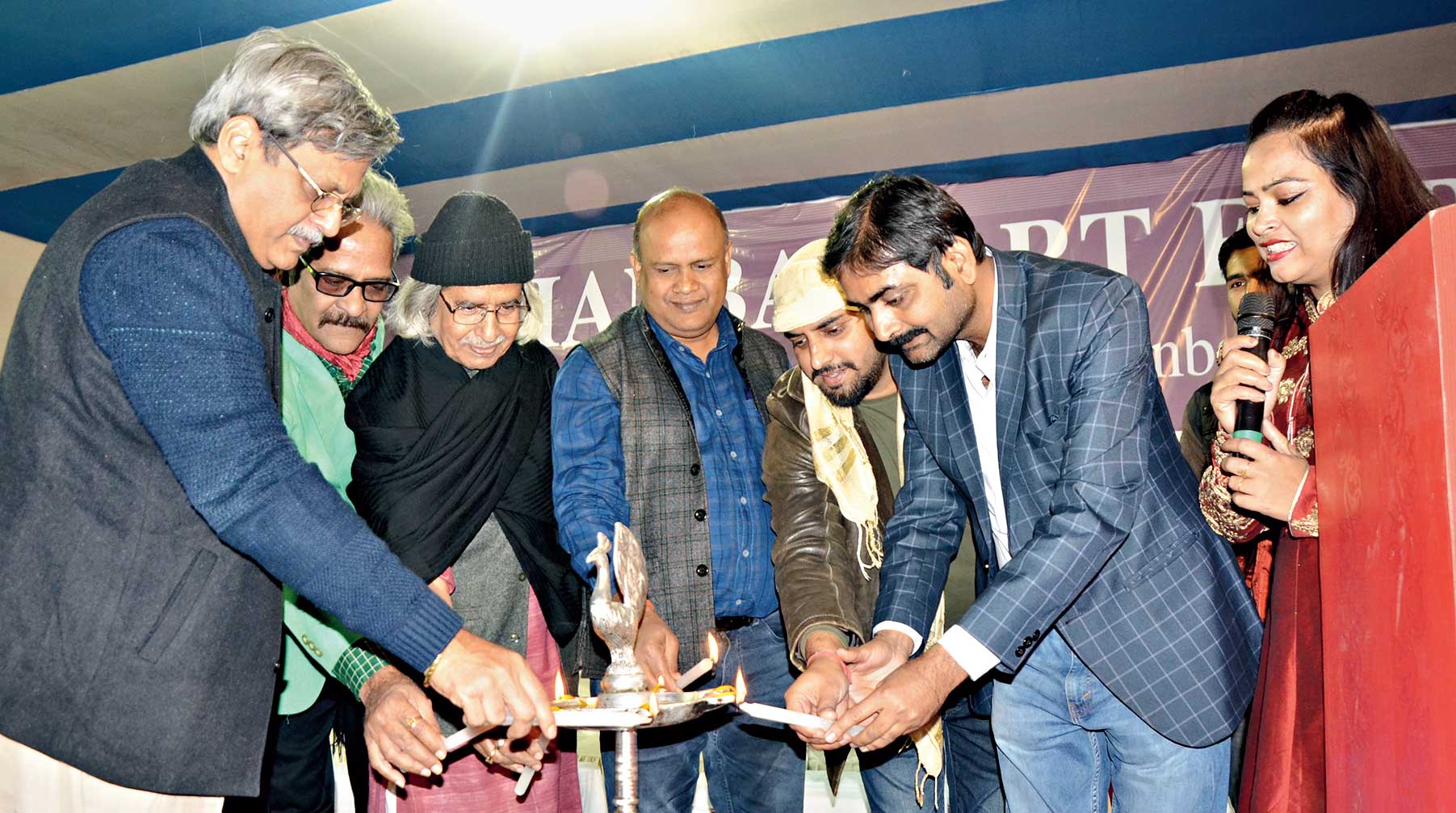 Padma Shree Jogen Chowdhury (third from left) at the inauguration of Dhanbad Art Fair on zilla parishad grounds on Monday.
Picture by Gautam Dey
---
Dhanbad
|
Published 08.01.19, 07:46 AM
|
---
For Tahmina Hafiz Lisa, a painter from Bangladesh, life was like living through magic being remote controlled by someone from afar.
"One of my paintings, which depicts a women smoking a cigarette with somebody from behind helping her light it, signifies the current socio-political scenario everywhere. Somebody else controls our life for vested political interests," said Lisa, who is exhibiting her work along with 50-odd artists from across the globe at Dhanbad Art Fair, organised by a local organisation, India Telling, here at zilla parishad grounds.
The fair was inaugurated on Monday by eminent artiste Jogen Chowdhury in the presence of a number of notables including the curators of the show, Dhanbad-born and Muzaffarpur resident A.K Douglas, Raza Foundation's Akhilesh Verma and Amit Harit, and Abhishek, who is also acting as coordinator.
Two of her paintings, Lisa added, were part of a series titled "Aabra Ka Daabra", based on poster painting.
"Another one depicts a fire in town caused by the flame of a matchstick used to lit a cigarette. The paining conveys the message that the acts of individuals guided by someone else may have dangerous ramifications for society," she said.
Lisa is among eight foreign artists who are displaying their work here. Their set is being curated by Douglas. "Poster painting is like cinema posters that try to depict the entire story of cinema in a bid to attract the audience. My poster painting also exhibits the entire story on a single canvas," he said.
Douglas, who has a diploma in fine arts from Pracheen Kala Kendra, is the son of former labour commissioner Arun Kumar, who was posted in Dhanbad but later shifted to Muzaffarpur in Bihar.
"We are here for four days to promote art in general and painting in particular. We will be interacting with visitors, listen to their views and also share details of our work that includes sculptures and installations," he said.
Sharad Sonkusale, who is an assistant professor at the State University of Performing and Visual Arts- Rohtak, and whose work is part of the show curated by Akhilesh Verma of Raza Foundation, said, "My abstract paintings show the inside journey of a person through different thought processes depicted through various shapes like a circle, triangle and dots," he said adding that he had been feted at a national competition organised at JJ School of Art-Mumbai in 2016.
Among the other artists taking part are Enguine Ko and Kim Sungmi of South Korea, Bibhushan Tamarkae, Pritam Thapa, Shyam Sundar Yadav and Kishore Nakarmi of Nepal and Mahdi Masud of Bangladesh.