Devotees throng Jharkhand temple, flouting lockdown
No social distancing at Kauleshwari Devi Temple; administration denies onus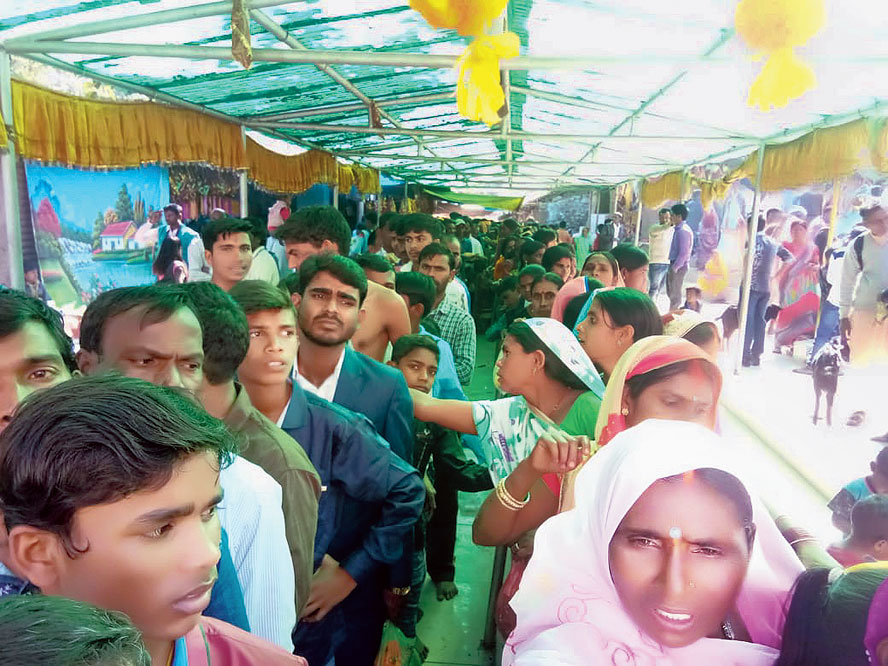 Devotees at the temple in Chatra on Monday.
Picture by Manob Chowdhury
---
Jamshedpur
|
Published 17.06.20, 01:54 AM
|
---
Glaring administrative lapses led to a crowd of nearly 20,000 gathered at the Kauleshwari Devi Temple on the hills in Hunterganj block of Chatra district, over 170km north of Jharkhand capital Ranchi, on Monday morning in violation of lockdown provisions without masks and adherence to social distancing norms.
The devotees mostly from Gaya, Aurangabad and Sasaram districts of Bihar had started thronging the temple for taking part in the mundan (shaving of a child's first hair) rituals in the temple.
"The mandir has not been opened for devotees since the lockdown (March 25). We only open it in the morning for aartis and cleaning purpose for a few minutes. We were surprised to see people in queues today (Monday) morning. We appealed to the devotees not to violate lockdown provision and return back but they were not willing to go back. When all our efforts failed, we informed the local administration and they came with a police team and announced in public amplifier only by 11am," said a member of the Kauleshwari Devi Mandir Prabandh Samity preferring anonymity.
The Kauleshwari Devi Temple attracts thousands of devotees round the year, especially, during Purnima and Amavasya and during mundan rituals, which take place on Mondays.
The temple management committee member informed that most of the devotees had gathered thinking that temple and shrines have been opened in Jharkhand, too, like Bihar.
"They (devotees) said that in Bihar, all temples and religious places are open from June 8 onwards and thought of performing mundan rituals in the famous temple today (Monday) as it had an auspicious tithi," said the committee member.
Local residents blamed the administration.
"On last Monday (June 8) the administration had deployed the police and magistrates on all the entry points from Bihar in order to prevent coming of devotees. They could have done that today (Monday) too. There were thousands of people without masks standing close to each other in queues which has increased threat of spike in Covid-19 cases," said Amrendra Singh a resident of Hunterganj.
Chatra has 35 Covid-19 positive cases so far.
The administration, however, refused to accept their fault.
"There was no problem from our side. The temple management had adhered to the government directive and it was closed. People had come for religious rituals in large numbers and on getting information we rushed the police and senior administrative officials to disperse the devotees. We are probing into the reason for such a large crowd," said sub-divisional officer Chatra, Rajeev Kumar who is also the chairman of the Kauleshwari Devi Temple management committee.
Chatra superintendent of police Rishav Kumar Jha said that they will be lodging cases only after getting reports from the circle officer and local police station officials.
"We have asked the circle officer and the local thana official to submit a report on assembling of large crowd at the temple and only after studying the report we will lodge any case against those responsible for such a huge gathering," Jha said.