Devotees opt for rooftop water tanks for Chhath
Instead of ponds and lakes, vratis are choosing makeshift options to perform the arghya ritual at home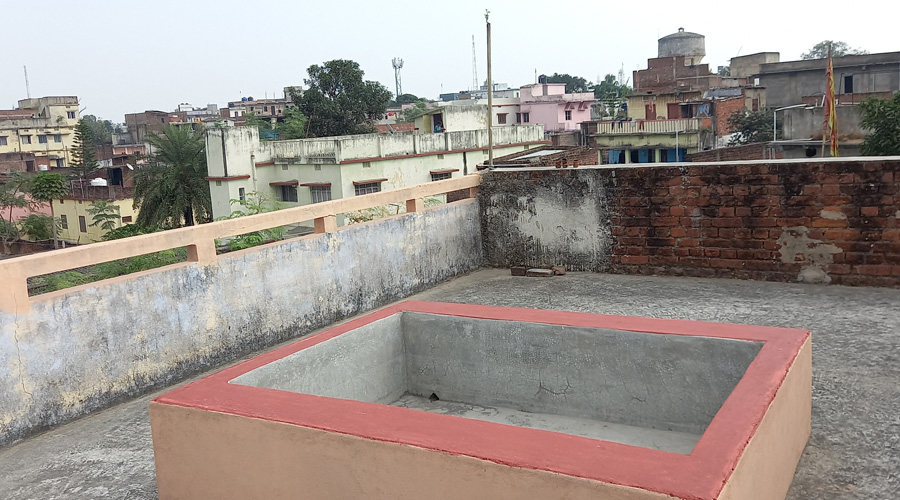 Rooftop tank in Hazaribagh on Thursday.
Picture by Vishvendu Jaipuriar
---
Hazaribagh
|
Published 19.11.20, 03:47 PM
|
---
Due to the ongoing Covid-19 pandemic, many have made alternate arrangements for the arghya during Chhath festival. Vratis offer arghya to the sun god twice during this festival but first, take a holy dip into reservoirs. Due to the Covid-19 followed by warning from doctors as not to maintain negligence while offering arghya, many made arrangements at home to perform this important ritual. At many homes, water tanks have been constructed on the rooftop for the purpose. Some got a part of the land in their garden area dug to make a dobha (farm pond) like structure for this purpose. The four-day festival started on Wednesday and the vratis will perform evening arghya on Friday followed by the second one on Saturday morning which will mark the end of Chhath.
Okni mohalla resident Geeta Prasad said she spent around Rs 10,000 to get a big tank constructed on the rooftop for her daughter-in-law Uma who has taken part in Chhath for the last four years. Prasad said she wanted to have this tank before as the dirty pond water leads to skin rashes which is also a common problem among all those who take a dip into it. Uma said she will do this ritual comfortably now as getting a better place on the bank of any pond was another big issue for her family. She said, from her rooftop they will also get a better view of the sunrise and sunset.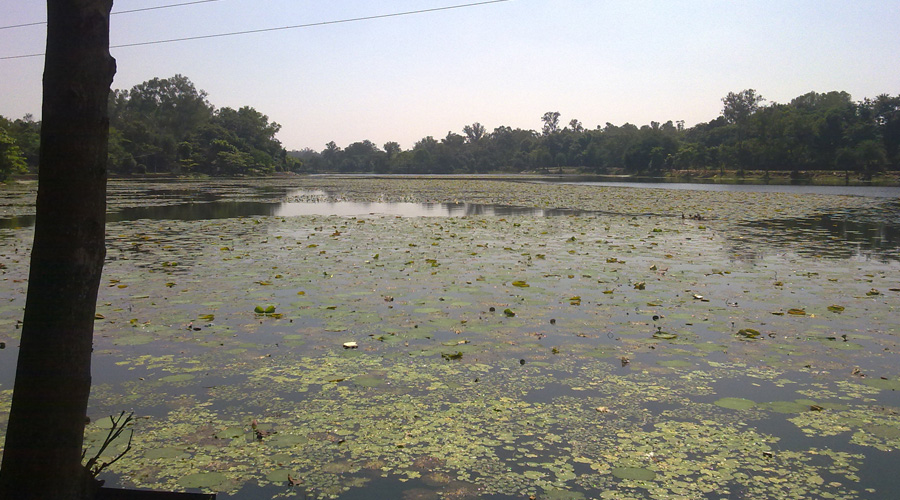 Subodh Mehta, a resident of Matwari mohalla said he had purchased a children's swimming pool made of plastic. It costs Rs 900 but it is best for this purpose. "I will keep this pool on the terrace of the house and once the festival is over, I will give it to my grandsons to play with it," he added with a smile.
One Indrani Pandey of Shivpuri mohalla said she will use the discarded plastic water tank for this purpose. A few days back, I had engaged a laborer to cut this 5000-litre capacity plastic tank into half and now it became useful for the arghya purpose, she informed.
A toy shop owner on the main road, Sumit Jaiswal said he had sold 20 swimming pools of children for the arghya ritual. For whatever purpose, customers are buying it, and I am happy that it has increased my earning, he added.
Meanwhile, Zilla Marwari Sammelan officer bearers including Sumer Sethi, Manoj Goyal, and Kapil Jain on Thursday announced that they will make temporary changing rooms at various Chhath ghats of the town. They said vratis face trouble while changing clothes at the ghats, so they had decided to make changing rooms for this purpose. We have obtained permission from the municipal commissioner Madhavi Mishra in this regard, they added.