Deoghar: Tilak Utsav marks Saraswati Puja
As per age old tradition, Mithilanchal residents consider themselves as the family members of goddess Parvati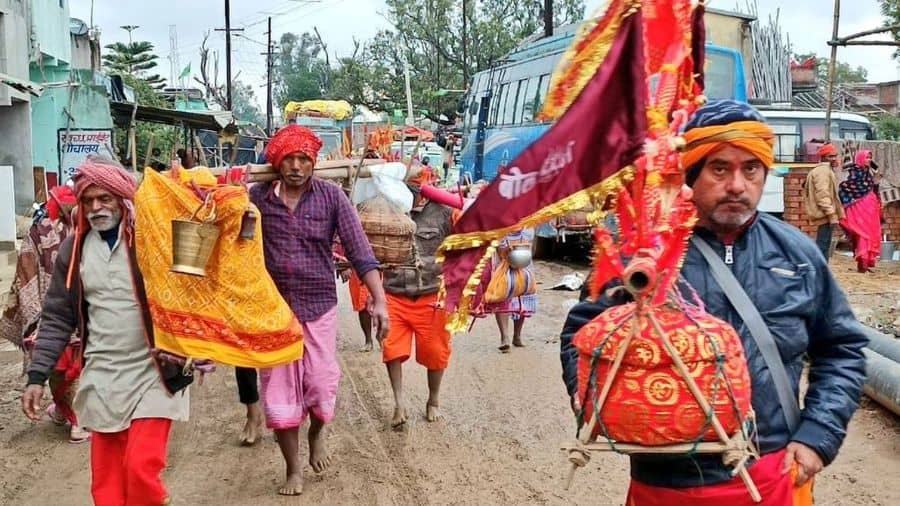 Devotees perform ritual of special tilak puja at Baidyanathdham temple of Deoghar on Saraswati puja
Gautam Dey
---
Dhanbad
|
Published 05.02.22, 09:04 PM
|
---
A sea of humanity that congregated at temple town, Deoghar on Saturday offered puja at Baidyanathdham temple and played colour and gulal with one another.
The occasion was tilak utsav puja held on the fifth day of second half of the Hindi month of Magh during which more than 1 lakh devotees from the different districts of Mithilanchal area of Bihar, including Darbhanga, Bhagalpur, Katihar, Saharsa,  Begusarai, Khagaria, East Champaran, Madhepura, Madhubani, Samastipur, Mujaffarpur, Sheohar, Supaul, Vaishali  offered prayers in the temple.
Notably, the district administration of Deoghar led by Deputy Commissioner, Manjunath Bhajantri made elaborate security arrangements for the  smooth conduct of Puja, and deputation of large number of magistrates at different places of Deoghar near the temple besides the barricading etc has been carried out.
As per age old tradition the Mithilanchal residents consider themselves as the family member of goddess Parvati as Mithilanchal lies on the foothills of Himalayan range of mountains, which were once ruled by King Himwan father of goddess Parvati.
Thus the Mithinlanchal residents regard Lord Shiva as their son in law and as per the important ritual of marriage ceremony they offer tilak to Lord Shiva on the occasion of second fortnight of Hindi month of Magh which is also known as Basant Pachami or Saraswati Puja.
Sanjay Mishra, vice president of the shrine board of the temple, titled, Panda Dharmrakshini Sabha said, "The tradition of Tilak Utsav ceremony is going on since time immemorial and the devotees come to the temple town four- five days ahead of the Basant Panchmi."
He further said, The main function is held in Lakshminarayan temple situated inside the Baidyanathdham temple campus during which the devotees offer newly grown crop of their fields besides other puja paraphernalia" and added that the main Prasad of the Tilak ceremony is Malpua, a traditional cuisine. "The puja begins since the early morning with the offering of holy water of river, The Ganges carried by the devotees on their shoulder with the help of Bamboo made Kanwars," said Mishra.
"The main function of tilak utsav is held during the evening in Swaminarayan temple after which the devotees also offer payers in all 22 temples situated in the Baidyanathdham temple campus," elaborated Mishra.
Manjunath Bhajantri, Deputy Commissioner of Deoghar, said, "Since it is annual registered puja during which large number of devotees visit Deoghar to offer prayers so all sorts of arrangements have been made to avoid any discomfort to the devotees in offering puja."