Deoghar frames building norms keeping airport in mind
Local administration announces colour coded zoning norms to regulate construction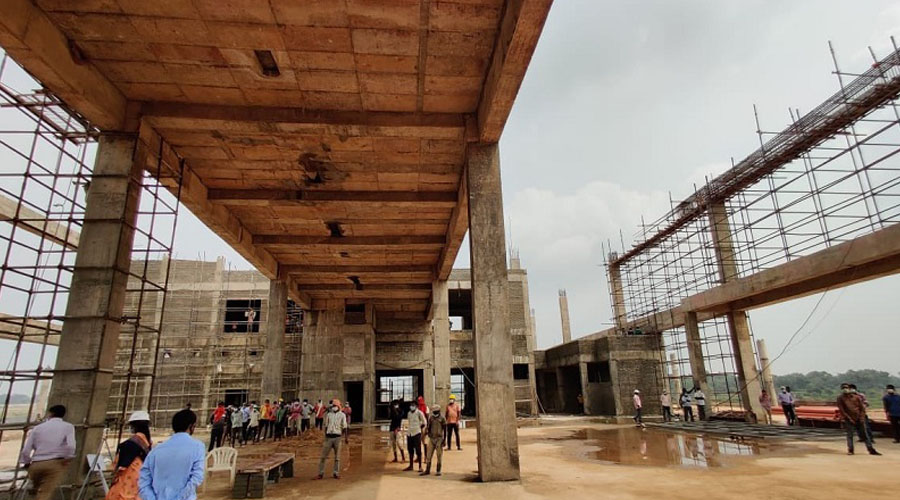 An area of the Deoghar airport where work is still on.
Telegraph picture
---
Ranchi
|
Published 26.11.20, 06:42 PM
|
---
Construction of buildings in the Deoghar municipality region will now be regulated in view of the upcoming international airport in the temple town to facilitate smooth flying operations. 
Officials of Deoghar Municipal Corporation and Airports Authority of India on Thursday jointly announced the introduction of a color-coded zoning map in the entire region as per norms prescribed by the Director-General of Civil Aviation (DGCA).
After missing the November deadline, flight operations from Deoghar airport is now expected to begin in the next couple of months.
Talking to the media, Deoghar town commissioner S.K. Lal said the entire municipal area has been divided into seven colour-coded zones. "In red category, no civil work can take place without the prior approval of AAI. In yellow zone, maximum height of a building has been capped at 265 metre above the mean sea level, 275metre in pink zone, 285metre in grey zone, 295metre in blue zone, 325metre in orange zone, 355metre in green zone and 385metre in light blue zone. Any kind of construction will now have to abide by these restrictions and due clearances from AAI and civic body as and where needed."
Lal said the initial survey conducted in the entire municipal area revealed that currently none of the buildings are violating the colour coded norms.
"Once the airport starts operating, there will be a boom in purchase of land for setting up hotels, resorts around its periphery and elsewhere. To curb unmindful construction in the interest of safe flying, we are gearing up to streamline the expansion of such activities," he said, adding that the survey has identified a handful of obstructions in and around the airport which will be cleared on priority basis.
For example, in Bhandarkela village in ward 34, a few structures are now in the red zone. "There is a toilet building of the municipal body, about 25 small residential houses and a 15-year-old private school. We have informed AAI. Based on their feedback, we will move to relocate them to other places," said Lal.
The town commissioner said the colour codes would be publicised through various media soon. "Thereafter, any construction which is found to be violating the colour-coded norms will be razed by the administration, besides initiating legal and punitive action," he said.
In September, the Union civil aviation minister Hardeep Singh Puri had announced flight operations from Deoghar and Darbhanga—two regional airports centrally funded under UDAN scheme _ from the first week of November. While Darbhanga airport commenced operations, Deoghar lagged behind due to infrastructural gaps.
However, earlier this week, deputy commissioner Manjunath Bhajantri, after reviewing the project, said the state government had prioritised clearing of all bottlenecks.
The foundation stone of the Rs 401.34-crore Deoghar airport was laid by Prime Minister Narendra Modi on May 25, 2018. It is being developed by the Airports Authority of India in collaboration with the Defence Research and Development Organisation (DRDO) and the Jharkhand government.
The airport is spread over 653.75 acre and its terminal building is being built over an area of 4,000sqm, while the runway is 2,500 metre long. With an environment-friendly architectural design and state-of-the-art passenger facilities, the terminal building will be a composite structure inspired by the rising towers (shikhar) of the Baba Baidyanath temple.
This will be Jharkhand's second-largest airport after Birsa Munda International terminal in Ranchi and will be suitable for operation of Airbus A-320 type of aircraft.