Demand for cash in Sindri ATMs
STATE DIGEST: Rapid Antigen Test in BCCL areas; Sarna code demand; principal arrested on harassment charges; BJP protest land bill; Parents protest school fee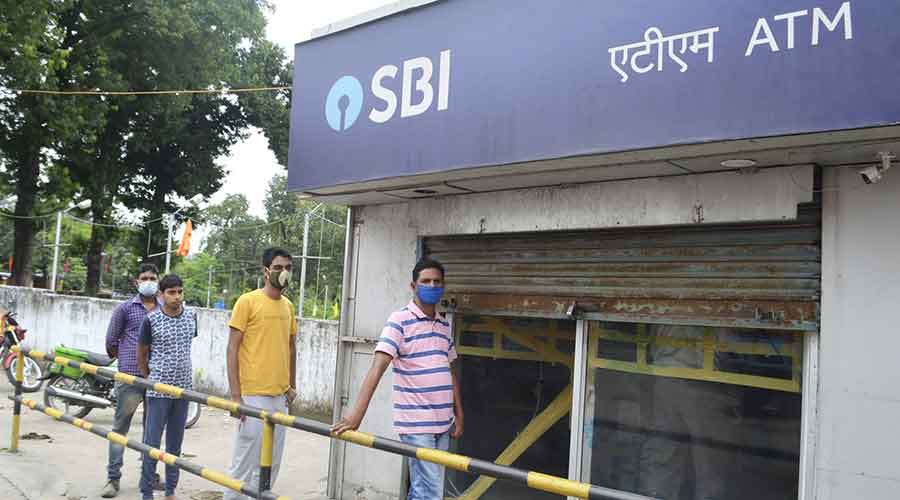 ---
---
Sindri Chamber of Commerce president Dipak Kumar Dipu on Sunday sent a mail to the Reserve Bank of India demanding regular filling of cash in ATMs.
Several ATMs of banks including State Bank of India, Bank of India and Canara Bank have been lying cashless.
Dipu in his mail expressed concern that people will have to stand in long queues at banks to draw cash during the festive season which may lead to violation of social distancing norms.
Rapid Antigen Test in BCCL areas
Dhanbad district administration has decided to include 15 BCCL areas under its ambit of Rapid Antigen Test from September 21 to curb the spread of Covid-19.
In a joint order issued on Sunday by Dhanabd Deputy Commissioner, Uma Shankar Singh and Senior Superintendent of Police, Asim Vikrant Minz it was announced that testing will take place in the areas including Modidih, Tetulmari, Nichitpur, Lodna, North Tisra-South Tisra, Laikdih, Amlabad Colliery, Mahuda dispensary, Regional Hospital Tilatand, Kustore, Jealgora,Community Hall Barora, Bhowra Hospital, GVT Kenduadih and Durga Mandir.
Sarna code demand
More than100 tribal people on Sunday took out a procession in Putki area of Dhanbad demanding inclusion of Sarna code.
The protesters said the resolution for inclusion, if passed in the Assembly in the monsoon session, will give them an identity crucial for the 2021 census.
Ambulance crash
Four members of a family carrying a dead body in an ambulance had a close save when their ambulance hit a concrete slab near Debiyana locality of Nirsa about 35 km from Dhanbad.
The family was travelling from Calcutta to Mujaffarpur in Bihar.
A police team from Nirsa Police station led by Assistant Sub Inspector of Police J.S.Tigga sent the family with the body in another vehicle since the ambulance was damaged in the accident.
Principal arrested on harassment charges
An acting principal of G.C.A. inter college Chhaterpur P.R. Pathak was remanded in judicial custody on Saturday.
Sub divisional police officer Shambhu Kumar Singh said a criminal case was lodged by a tribal employee accusing him and another male employee of harassment and mental torture.
The complainant Asha Tigga works as an accountant in the college.
Chhaterpur police are bound to invoke sections of the SC/ST prevention of the atrocities act if the accused are found guilty.
Asha Tigga said P.R. Pathak had withheld her salary after she divulged information to an investigating team that was probing financial irregularities in the college.
Police are still in search of the co-accused employee.
BJP protest land bill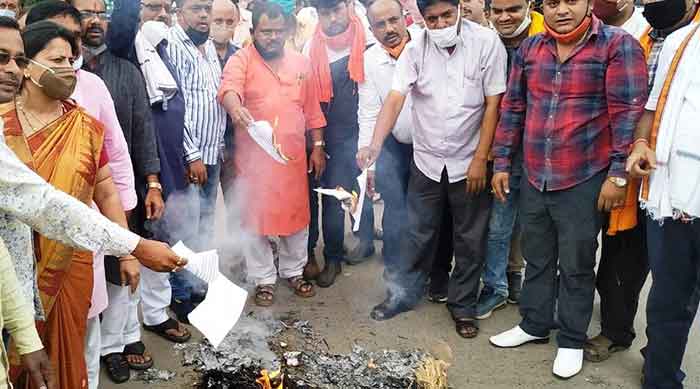 BJP workers burnt copies of land mutation bills at Birsa Chowk under City police station in Bokaro on Sunday. The workers raised anti-slogans against the JMM government. The Jharkhand government passed the bill in a covert manner.
"This Land Mutation Bill is black law which gives shelter to land mafias. We are opposing it. The law suggests that there will be no civil or criminal case against corrupt officers in land related matters, Is this justified?"said a BJP worker.
Jackal scare
Residents of Gawan and Tisri block of Giridih are living in fear of a jackal in the area. About 13 people have been injured by the jackal. Sub-divisional police officer (SDPO), Khori Mahua, Navin Kumar Singh said that residents have witnessed a rise in jackal attack in recent days.
Sonam Devi, a villager, said that she was going to farmland when a jackal attacked her and she suffered injury to her hand.
Jackal attacks are mostly seen at day time.
Parents protest school fee
A delegation from Jharkhand Guardian Association has announced a dharna on Monday against private schools at Collectorate Building, Bokaro.
The protesters accused private schools of harassing parents to depositing fees till September. The association sought the intervention of the District Education Officer.
The group led by Mahender Rai also invited state education minister Jagarnath Mahto to participate in the protest. Mahto on Saturday deposited the school fees of his granddaughter after her name was struck off from the online classes.
Brothers drown
Two brothers drowned in a pond in Balhara village of Ghodtamba at Giridih on Sunday.
The deceased were identified as Saurabh Kumar (15) and Sachin Kumar(9). They left the house saying that they were going to take a bath in the pond. But when they had not returned after a long time, their family launched a search and found their bicycle, cloth and slippers on the bank of the pond.