Defiant voices, known & unknown, rise
CAA is anti-poor: Kannan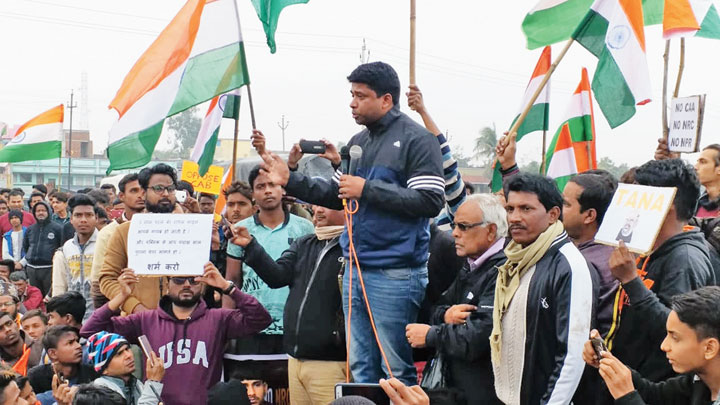 Kannan Gopinathan in Bokaro on Sunday.
Picture by Shikhar Kumar
---
Dhanbad
|
Published 19.01.20, 06:43 PM
|
---
Former IAS officer Kannan Gopinathan, who took part in a public meeting at Karbala Maidan in Sivandih area of Bokaro on Sunday, said the new citizenship law was not directed against any community but against the deprived and the destitute.
The 34-year-old, who shot into limelight in August last year after resigning from the Indian Administrative Service to protest against the way in which Jammu and Kashmir's special status was revoked, addressed a gathering of around 3,000 people from 1pm-1.30pm.
In his speech, Gopinathan urged people to maintain peace and harmony while protesting against the Citizenship (Amendment) Act (CAA), National Register of Citizens (NRC) and National Population Register (NRC).
"Only Mahatma Gandhi's way of non-violent Satyagraha can help people fight a protracted battle. Any violent agitation can't sustain for long. We can win against these controversial laws only if we continue our agitation in a peaceful manner. It is nothing short of a freedom struggle against laws that are anti-people and anti-constitutional," Kannan told the gathering.
He also asked people to remain prepared to face difficulties similar to those in the post-demonetisation period.
"Demonetisation didn't affect the rich and the influential. Instead, it led to retrenchment, joblessness and industrial closure. NRC will also crush the destitute and have-nots who won't be able to provide documents proving their citizenship," Gopinathan said, adding that the preparation of citizenship-related documents will promote bribery and corruption in government offices.
He said the farmers, dalits, tribals, daily wage-earners would be the worst-hit.
"Those advocating the CAA claim that victims of religious persecution in Pakistan, Afghanistan and Bangladesh will be provided citizenship in India. Why not include the Sri Lankan Tamils in the list as well?," Gopinathan reasoned, adding that these laws were against the ethos of Constitution that guarantees right of equality to every citizen.
He said the laws were a clear-cut attempt at diverting attention from core issues such as economic slowdown, unemployment and price rise.
Leo Singh, state convenor of National Alliance of People's Movements, said Gopinathan was also scheduled to participate in a discussion on citizenship at Jodhadih Mor in Chas from 10.30am, but it was cancelled under police pressure.