Day 3: efforts continue to rescue trapped miners
Water level inside mine down, divers from Cuttack going in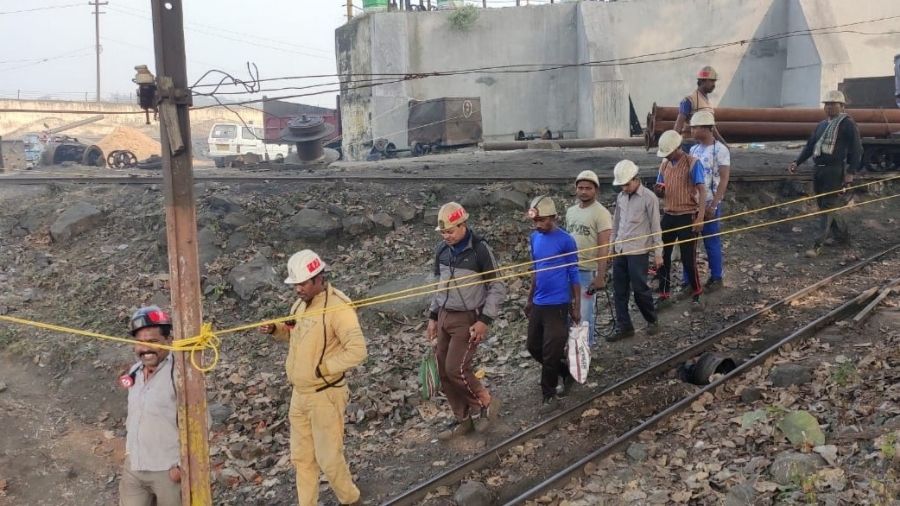 A rescue team proceeds via the BP incline of Khudia Colliery at Mugma in Nirsa block of Dhanbad on Thursday.
Picture by Shabbir Ahmed
---
Dhanbad
|
Published 10.12.20, 08:06 PM
|
---
Work to rescue two trapped miners from the flooded Khudia mine of Eastern Coalfield continued on a war footing for the third day on Thursday, but Basia Maji and Manik Bauri could not be reached
All senior officers of ECL Mugma Area, including GM Vibhash Chandra Singh, Additional GM Ajay Sharma, Area Safety Officer C.K. Nayak, Project Officer C.K. Nayak, and Project Officer of Khudia Colliery, were stationed at the site through the day to supervise rescue operations being carried out by eight teams, in addition to a team of divers from Cuttack.
A team from the Directorate General of Mines Safety, led by Director (central zone) Murlidhar Mishra, was also at the site to guide rescue teams and ECl officials.
A joint team of safety officers of Coal India and Mugma led by chief manager (safety) of ECL Rahul Sinha, and including Senior Manager (Mines/Safety), Ajay Kumar Sharma, also supervised the ongoing rescue work.
Sharma said "We will continue the rescue work at night as the special team of divers from Cuttack will enter the mine and will carry out search operations. We are hopeful that with the water level receding, we will be able to rescue the trapped workers."
The ECL administration has also speeded up work to drain out water from the mine by deploying a fourth motor to facilitate movement of rescue teams inside the mine.
GM of Mugma Area Vibhash Chandra Singh said, "The rescue effort is going on as fast as possible. We have pulled in all our available resources and expect rescue work to be completed on a positive note."
Asked when the mine was expected to be free of water, he said, "That is very difficult to say. Despite the constraints of working in underground mines, we are working day and night to ensure that the workers are saved."
Four miners were working at night at the Khudia Colliery which got flooded because of a bore hole breach during the wee hours of Tuesday. Two workers Samir Tuddu and Vikash Bhuian managed to escape, but Basia Maji and Manik Bhuian could not.