Das defends 2016 jobs policy, says Hemant govt should move SC
JMM-Cong govt driven by political vendetta, says former BJP chief minister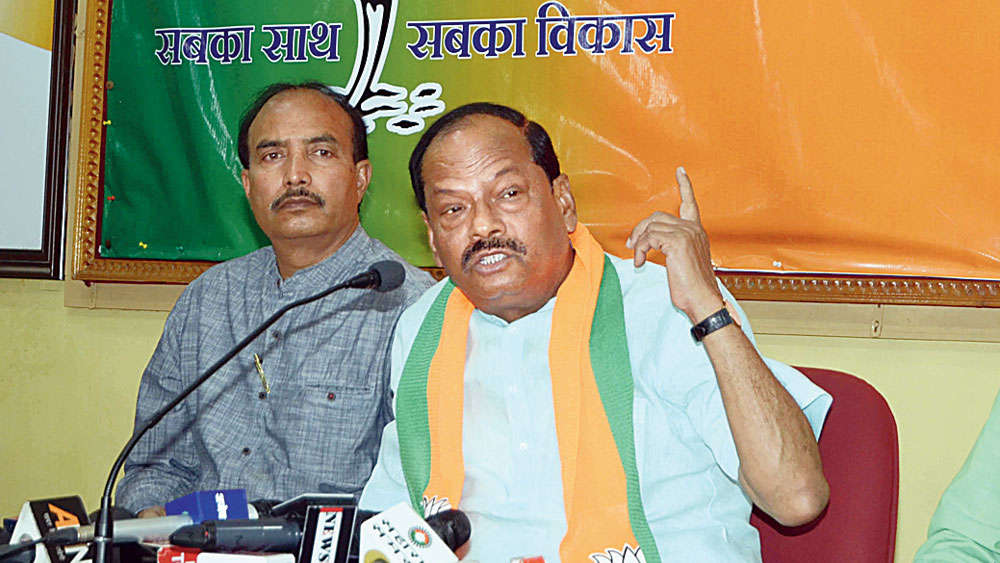 ---
|
Ranchi
|
Published 22.09.20, 09:55 PM
---
Former chief minister Raghubar Das has come out in defence of the 2016 recruitment policy that has been scrapped by Jharkhand High Court and accused the Hemant Soren government of acting out of political vendetta in not defending it convincingly in court.
The policy, which was drafted and implemented during Das's tenure, had reserved all class III and IV government jobs in 13 scheduled districts for local applicants.
The court, while hearing a series of petitions against it, ruled against the policy on Monday, saying it violated fundamental rights. The court cancelled the ongoing recruitment process of 17,572 high school teachers. As a result, the fate of thousands of applicants, including those who have been hired on the basis of the policy, is now uncertain.
Das said that the policy was in favour of tribals and moolvasis. It was notified by Jharkhand governor, who was empowered to frame laws in scheduled areas under the provisions of the Fifth Schedule of the Constitution.
The idea, he explained, was to provide them equal opportunities in jobs. "The main idea behind reserving jobs for locals in 13 scheduled districts was to provide them equal opportunities. Jharkhand was facing an acute crisis of teachers which was affecting the overall education system. This apart, the scheduled areas struggled with infrastructure and development as a result of which those living in these areas often failed to compete with those with better resources in non-scheduled areas. Taking all these aspects into consideration, we drafted a policy for scheduled and non-scheduled areas which was completely in sync with the Constitution of India," Das said.
"However, the current government failed to impress upon the court the right intentions behind this policy only because of political vendetta," he added.
The ruling JMM countered Das by stating that the former chief minister should accept responsibility for rendering thousands jobless overnight. "We had objected to the policy, saying it would not stand judicial scrutiny. Now, that's what has happened. Who will take the responsibility of duping thousands in the name of employment now?" said JMM general secretary Supriyo Bhattacharjee.
Das went to suggest that the Hemant Soren government appeal against the high court order in Supreme Court if it was serious about uplifting adivasis and moolvasis.
"The JMM-Congress-RJD government should challenge the order in Supreme Court only if it wants to create jobs for tribals and indigenous people of this state. Ironically, in last 14 years before five years of BJP rule, the JMM and other parties that claim to be pro-tribal did nothing to define a local residents' policy. But it was our government which worked towards it sincerely," Das said.
He went on to attack the coalition government, saying it had done precious little since it came to power in December last year. "They (coalition) promised five lakh jobs every year in their election manifesto but it is doing the exact opposite now," Das said.
JMM's Bhattacharya said the BJP misled everyone via a faulty policy to use people as vote banks. "But intoxicated in power, the BJP did no pay heed to anyone and went on breaking all rules and laws during its stint in the state," the JMM spokesman said.
The state government is now waiting for a copy of the high court judgement before planning its next move, chief Hemant Soren told reporters on Monday.