Darkness of Ujjwala under government nose
Families in Hatia still use branches of trees to cook food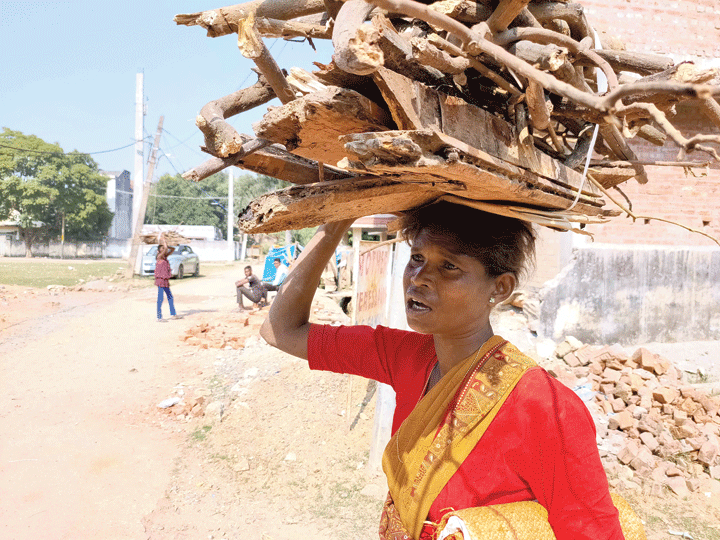 ---
Ranchi
|
Published 16.11.19, 06:52 PM
|
---
The Raghubar Das government often highlights implementation of the Pradhan Mantri Ujjwala Yojana as one of its achievements but there are many eligible families bang in the state capital who are awaiting the benefits of the scheme to provide cooking gas to poor women.
These families still use branches of trees to cook food; Marium Gari's is one of them.
On Friday, Gari was walking through Harmu Housing Colony in Ward 26 of Ranchi Municipal Corporation in the heart of the city to her house at Harmu Basti with a bundle of firewood collected from different parts of the locality.
The locality is under Hatia Assembly constituency. The BJP state headquarters is hardly 500m from the place.
"I do not have a gas cylinder and stove and I still use wood to prepare food," Gari said. "Not only me, my neighbours Heeramani, Marium, Usha Gari and Walter also do not have gas connection though we all come under BPL (below poverty line) category."
Asked whether she had met anyone to get the gas connection, she said it was easier for her to cook using wood than run from pillar to post for a connection.
"I tried once but then I realised that I have to skip many lunches for documentation work to get the connection. I also realised that I will have problems in refilling the LPG cylinder once it gets empty as each cylinder costs more than Rs 700," Gari said.
In August this year, the state cabinet had cleared a proposal to give the first refill for 14.2kg cylinders for free for Ujjwala scheme beneficiaries. Those taking 5kg refills are to get two free refills. Going by Gari's words, the word does not seem to have percolated to the beneficiaries.
Harmu Naya Tola resident and social worker Jyotirmani Tigga said there are many eligible families who have yet to get the connection.
"In my locality hardly seven families have got connections while there are more than 20 eligible families. Many are not comfortable with documentation work though I have tried my best to ensure gas connection to each eligible family," Jyotirmani said.
Ravi Tigga, a locality resident and secretary of Sarna Samiti in Harmu, agreed that the documentation work is daunting for the scheme.
"BPL card, photo identity card, passport-size photo, Jan Dhan bank account statement besides a copy of socio-economic caste census data having the name of applicant is required to get the benefit and actual beneficiaries are so weak in documentation work that they prefer remaining without gas connection," Ravi said.
"Bharat ek kagaz pradhan desh ho gaya hai (India has become a document-demanding State)," he added.
Arun Kumar Jha, the Ward 26 councillor, expressed heldplessness. "Councillors have no role to play in the distribution of LPG connection. Beneficiaries are supposed to apply to the gas agency of their locality. Thus I do not have any idea how many have LPG connections here or not," Jha said.
Ravi Bhatt, general secretary of Jharkhand LPG Dealer Association, explained the practical difficulties in the distribution of LPG connections.
"Gas connection is given to those women only who are in the BPL category and have so far been deprived of a connection. In one household there is provision of giving only one LPG connection. Sometimes it becomes difficult to ascertain whether the applicant belongs to the same house where LPG connection has already been given or from different households," Bhatt said.
Bhatt, however, said the scheme was very successful.
"There are 72 lakh BPL families in the state, out of which 55 lakh have been given connections," he said. "In Ranchi district, 17.5 lakh of the 20 lakh BPL families have got connection."