Dalma guest house already full, booked till end-March
Jumbo abode was opened for tourists earlier this week after being closed for a year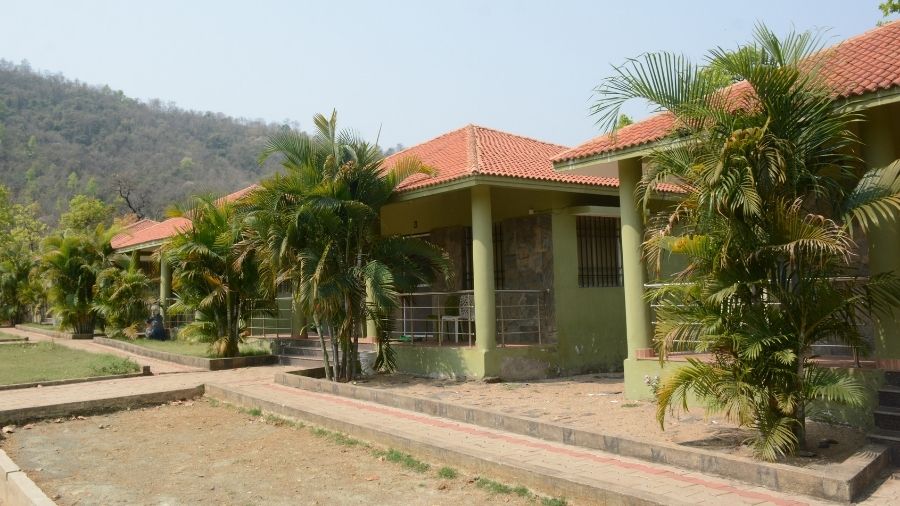 The cottages at Makulakocha inside Dalma wildlife sanctuary near Jamshedpur.
Picture by Bhola Prasad
---
Jamshdepur
|
Published 06.03.21, 07:22 PM
|
---
Accommodations at the Dalma Wildlife Sanctuary, 30km from Jamshedpur, are bursting at the seams in early summer when people prefer to spend quality time amid natural surroundings.
The three residential quarters at the entrance of Pinderbera forest guest house atop the hills and the Makulakocha AC and non-AC cottages on the foothills are full till March 31.
The four-room forest guest house at the entrance to the sanctuary is also full. The rooms here have attached toilets, a large kitchen-cum-hall, and ample space in the front. The rooms and toilets as well as the kitchen space have glazed tiles. New beds, mattresses and blankets are also in place.
Dalma range officer (West) Dinesh Chandra said they cannot accommodate more guests in March. 
 "The facilities near Pinderbera and Makulakocha are full. We also have plans to let out the mud cottages to the tourists. We discussed this matter on Friday and soon the facilities would be available for the visitors," he added.
According to Chandra, a sizable section of tourists from Calcutta have booked the accommodations. "People can book our facilities for next month onwards," the range officer informed.
Foresters are helpless and not entertaining any booking requests. "We are getting booking requests in large numbers almost daily. Most of the bookings are from Bengal-based tourists as Dalma is the most preferable getaway in the region," said an official at the forest range office in Mango.
The 192 sq km elephant abode reopened for tourists on March 2 after remaining out of bounds for almost a year due to Covid-19. 
"We adopted first come first serve policy when it came to bookings. The footfall of tourists is going to be impressive through the summer," Chandra said.
A forester said temperatures are still pleasant in the area and tourists can have  a cosy stay at the residential quarters. 
"The watering holes are full and waiting for the elephants, some of whom are still stationed on the foothills. It will not be long before the jumbos proceed uphill. Tourists will have ample opportunity to sight the elephants near the watering holes," he added.
The Dalma authorities utilised the Covid-induced closure of the sanctuary by having the roads mended. 
"Tourists can enjoy a smooth ride to the top. The roads have been mended," the forester said.