Dalma elephants fed on credit due to lack of funds
Authorities claim state government unable to disburse annual amount because of the Covid-19 pandemic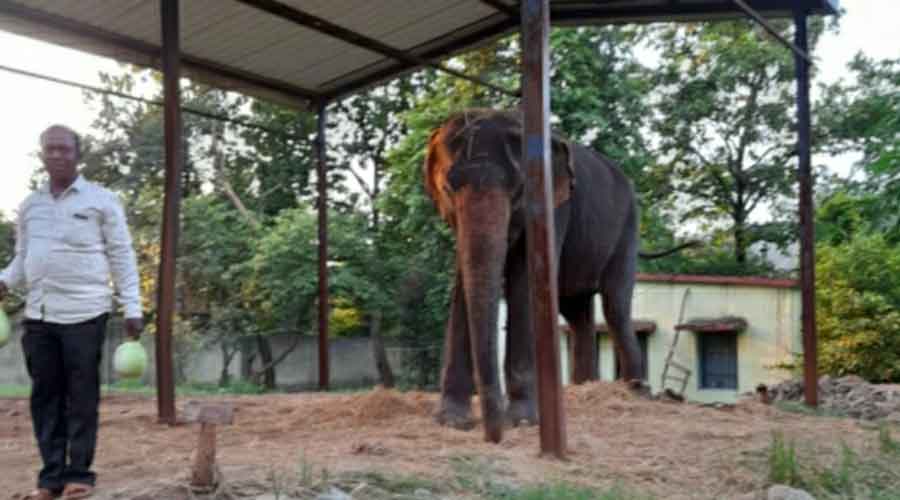 One of the two rescued elephants at the Dalma wildlife sanctuary on Saturday.
Animesh Sengupta
---
Jamshedpur
|
Published 14.08.21, 08:57 PM
|
---
The state forest department failed to sanction funds for two rescued elephants and over 60 deers kept in Dalma Wildlife Sanctuary following which the sanctuary authority fed the animals in credit. 
The Dalma wildlife sanctuary gets Rs 15 lakh annually for feeding the rescued elephants and deers, but though about half of the current financial year has elapsed the required fund has not been sanctioned yet. 
The sanctuary authorities maintain that as the state government is coping up with the fund crunch due to Covid-19 pandemic, it has failed to sanction the fund so far. 
Dalma divisional forest officer, Abhishek Kumar confirmed about not getting the fund for the maintenance of the rescued elephants and deers this financial year. 
"We would get the fund for the maintenance of the elephants and deers in the month of March every year. But this year almost half of the current financial year has elapsed, the fund is yet to be sanctioned. As a result of which the animals in enclosure are being fed on borrowed food," said Kumar to The Telegraph Online. 
The DFO said the fund issue has cropped up not only regarding the enclosed animals' maintenance, but also on other heads also, including the fund required towards the remuneration of the trackers who use to work for the upkeep of forest cover of the sprawling sanctuary. 
Stationed at the Makulakocha in Dalma about eight km away from the heart of the city, the two rescued elephants -- Rajni and Champa --are fed 'khichdi', pumpkins and straw every day. Similarly, the 60 plus deers which have been kept in an enclosure are fed grams, chaff and straw regularly. 
Initially, there were three rescued elephants at Makulakocha, but one of them, Laxmi, succumbed to her illness two years ago. 
"Whereas on the one hand, the number of the rescued elephants has come down to two after Laxmi's death in 2019, on the other hand, the number of the deers has increased considerably, thus consuming the Rs 15 lakhs that the state government has been providing every year since the past one decade.