Dalma elephants embark migratory journey to Bengal
The vegetation along the migratory corridor have been trimmed for the safe passage of the jumbos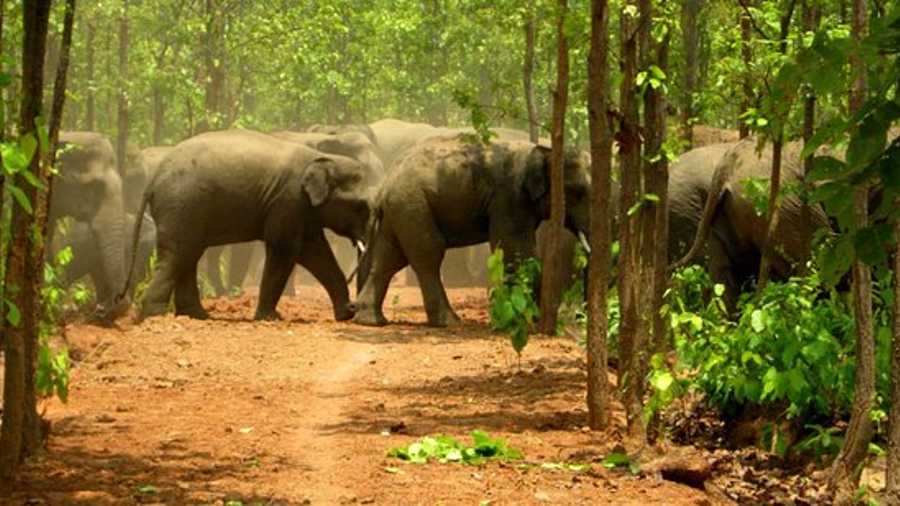 Elephants inside Dalma wildlife sanctuary.
Bhola Prasad
---
Jamshedpur
|
Published 23.09.21, 04:41 PM
|
---
Elephants of Dalma wildlife sanctuary are ambling towards the migratory corridor of Bengal as part of their annual sojourn.
Jumbos, including calves, in a sizable number are presently scattered in forests at the foothill and are slowly and steadily moving towards the migratory route. Some of the elephants have already moved to Bengal.
Around a dozen elephants have already migrated to the jungles of West Midnapore and Bankura districts of Bengal last month. Annually, jumbos from Jharkhand migrate to the neighbouring state between August-September.
There are around 150 elephants in the 192 sq km sanctuary, 30 km from Jamshedpur
According to trackers (village youths recruited as daily wagers to keep watch on movement of elephants and other animals) over 70 jumbos were spotted at the foothills. "The jumbos are scattered in the forests downhill. They are moving towards the migratory route," one of the trackers said.
The jumbos migrate to Bengal via two designated corridors – one from Jhunjka leading to Nutandih and the other from Burudih, passing through Narsingpur, Dalapani, Suklara and Aamdapahari.
Asked if there was threat to villagers living along the foothills, Dalma range officer (West) Dinesh Chandra said, "The elephants are in the jungles and there is no danger as such. Moreover, villagers usually don't tease elephants. There is no threat to human life as such," he added.
The vegetation along the migratory corridor have been trimmed for the safe passage of elephants who would amble back to the Dalma sanctuary in February-March next year.
Around 25 elephants, who don't migrate, are positioned uphill. "These elephants stay at the sanctuary throughout the year. Sanctuary would be sans the jumbos in some time. Elephants are the main attraction of this place," a forester said.
Tourists from Jharkhand, Bengal, Odisha and Chattisgarh visit the sanctuary to spend quality time in natural surroundings. They enjoy the flora and fauna and also visit the ancient Shiva temple located at the top.