Daily wagers hold Dalma ranger hostage over pending wages
Authorities say that government has not yet allotted funds for payment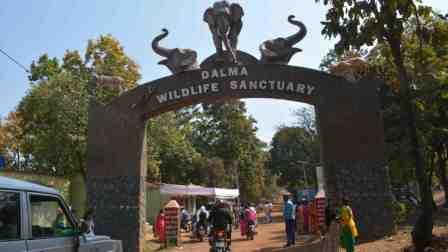 ---
---
At least 30 daily wagers of Dalma wildlife sanctuary lost their patience over pending wages, and held a range officer hostage on Tuesday, while locking the main entrance.
Dalma range officer (West) Dinesh Chandra was held hostage in Makulakocha for nearly three hours. The daily wagers, led by Shrishtidhar Mahto, president of Dainik Vetan Bhogi Majdoor Sangh (DVBMS), shouted slogans against the forest officials and demanded quick settlement of their dues.
The agitators included women from Makulakocha, Kadamjor, Tuling and Chakulia. "We have not been paid our wages since March. It is nearly five months now, and we had no option than to lose our patience. We are finding it difficult to make ends meet," Mahto said while speaking over phone to The Telegraph Online.
There are 48 daily wagers, who are engaged in maintaining the accommodation, taking care of two elephants (as mahauts) and some working as cooks. Trackers are involved in keeping a tab on movement of animals across the sprawling 192 sq km sanctuary, 30 km from Jamshedpur. They are paid Rs 249.83 for their labour. Therefore the estimated dues are around Rs 18 lakh for five months.
Range officer Chandra said he was helpless, and tried hard to explain to the daily wagers that he was just an employee of the forest department, and was not in a position to do anything. "I was held hostage as soon as I arrived at Makulakocha entrance. I gave Rs 10,000 to calm them down, but in vain," he added.
The labourers relented only when Chandra repeatedly told them that he would make them speak to Dalma divisional forest officer. "The daily wagers have not been paid for nearly five months now. We have been helping them by facilitating grocery and vegetables. We also gave them monetary assistance on some occasions," the range officer said.
Divisional forest officer C.M.P. Sinha said he was aware of the problems but payment can be made only after the government allots money. "So far, the government has not made the allotment. We have written letters to the forest department on the urgency of the matter. But things take time to process at the government level," he added.
Sinha said the payment was expected in the first week of August.
The forest officials, including rangers, have been providing monetary help to the hapless daily wagers, some of who are married with children. Most of the families are in dire straits and are finding it difficult to make ends meet.