Stan Swamy's custodial death unites anti-BJP forces in Jharkhand
Leaders and representatives under the banner of the Father Stan Swamy Nyay Manch discussed plans to march to the Raj Bhavan in Ranchi on July 15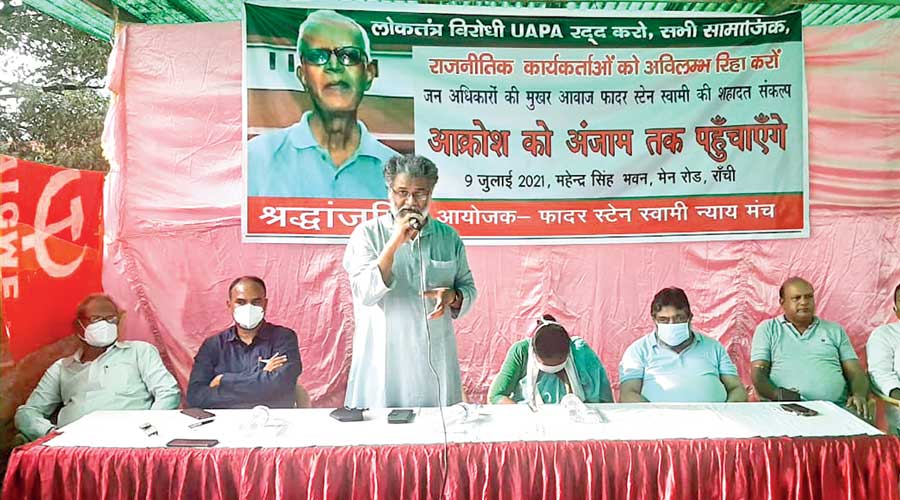 ---
|
Ranchi
|
Published 12.07.21, 01:05 AM
---
The death of Father Stan Swamy in custody has brought together and galvanised anti-BJP parties and social organisations in Jharkhand.
A day after they met at Bagaicha, the organisation founded by Fr Stan at Namkum in Ranchi, for a condolence meeting, leaders and representatives of these parties assembled again on July 9 under the banner of the Father Stan Swamy Nyay Manch.
The meeting, held at the local CPIML office, discussed plans to march to the Raj Bhavan in Ranchi on July 15 with the pledge of "Akrosh ko anjaam tak pahunchayenge (We will take this anger to its end)". They also decided to strengthen their demand for scrapping of the Unlawful Activities (Prevention) Act and release of all political leaders and social workers held under the UAPA.
"Not only the country but the whole world considers it a State-sponsored murder," CPIML general secretary Dipankar Bhattacharya, who chaired the meeting, said about the death of the octogenarian Jesuit priest in a Mumbai hospital on July 5 while awaiting bail.
"To teach all agitators a lesson, the Modi government displaced and put under trial a person who had fought for undertrial prisoners and displaced persons all his life," he added.
"Jharkhand should take the lead in giving voice and a political direction to the protests that are being held across the country," Bhattacharya said, adding that the UAPA should be scrapped and all non-BJP governments of the country bear "the responsibility of treating the undertrials well".
JMM general secretary Supriyo Bhattacharya too described Fr Stan's death as State-sponsored murder and added that "the Modi government wants to run the country as a monarchy by treating the citizens as its subjects and doesn't want them to raise their voice".
CPIML MLA Vinod Singh, Prakash Viplab of the CPM, Mahendra Pathak of the CPI and Rajesh Yadav of the RJD too spoke at the meeting, as did some other political and cultural activists such as Dayamani Barla, Xavier Kujur and Premchand Murmu.
They sought justice for Fr Stan and demanded an independent probe into his death to fix accountability.
They also demanded that the use of the UAPA against those who protest government policies be stopped and all political leaders and social workers held under the law acquitted.
"The treatment meted out to Fr Stan that culminated in his unfortunate death has moved everybody who knew about him or his work," said Nadeem Khan of the All India People's Forum, adding that many people from rural areas are expected to join the march to the Raj Bhavan on July 15.