CSIR director general lays foundation stone of Jharkhand building of Vijnana Bharti
Shekhar C Mande also inaugurated a renovated HRD hostel beside the CIMFR director office at Barwa Road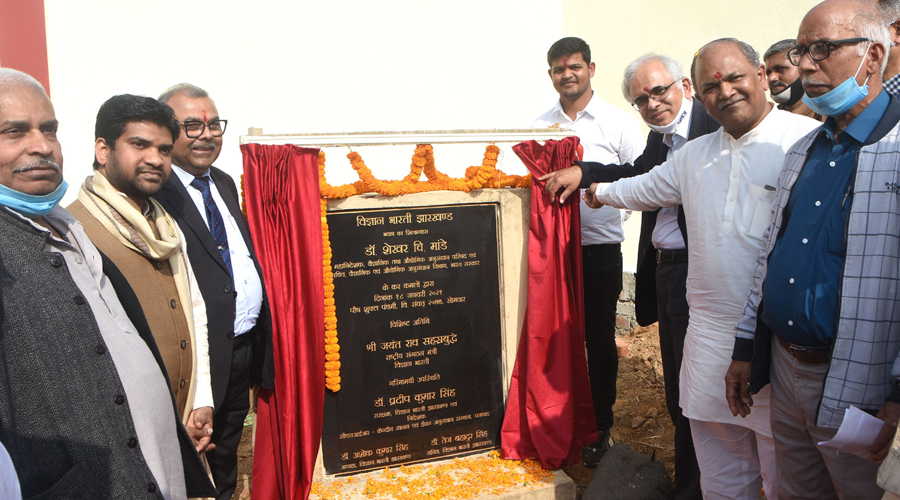 Shekhar C Mande (in black coat-white shirt), DG CSIR along with others laying the foundation stone of Vigyan Bharati Bhawan in Dhanbad on Monday.
Picture by Gautam Dey
---
Dhanbad
|
Published 18.01.21, 11:28 PM
|
---
Council of Scientific and Industrial Research's director general Shekhar C Mande, on the second day of his visit to Dhanbad laid the foundation stone of Jharkhand building of Vijnana Bharti at Bhelatand on Monday.
The day also marked the signing of various licensing agreements for Central Institute of Mining and Fuel Research (CIMFR) in presence of Mande including the licensing agreement for commercialization of digital mine using the Internet of Things (IoT) signed with M/s Optimized Solutions Ahmedabad and agreement for use of Gramin eBazar Software with M/s Edgeforce Solutions Pvt Ltd. A memorandum of understanding was also signed in his presence between CIMFR and Department of Geology of Ranchi University.
Mande also inaugurated a renovated HRD hostel beside the CIMFR director office at Barwa Road.
Mande graced the foundation stone laying function as the chief guest. A host of dignitaries including the national organizational secretary of Vijnana Bharti Jayant Sahasrabudhe, the president of Vijnana Bharti Ashok Singh and Central Institute of Mining and Fuel Research director PK Singh were also present. While speaking at the function Mande said, "It is only a beginning with the foundation stone being laid and Vijnana Bharti, Jharkhand will work to establish the relationship between science and society."
"The new building will provide strength to the Vijnana Bharti members who are working selflessly for the society and the common people," said Mande.
Director of CIMFR, Dhanbad PK Singh expressed hope that the new building of Vijnana Bharti would be ready by Vijayadashmi festival.
During the day one of Mande's visit he also inspected four different facilities of CIMFR of Dhanbad including the state-of-the-art coal washing plant of 400-tonne per hour capacity consisting of coal handling plant with different types of crushers working under the principle of compression, shear and attrition. He also inspected a hot stamping facility of CIMFR besides a 1.5 tonne per day capacity Oxy Blown Pressurized Fluidized Bed Gasification pilot plant for conversion of coal to syngas and a coal petrographic and coal characterization study facility at CIMFR.