Cry of 'six girls raped' from Khunti
Teenagers assaulted on way back from Makar Sankranti fair, police say it was 'eve-teasing'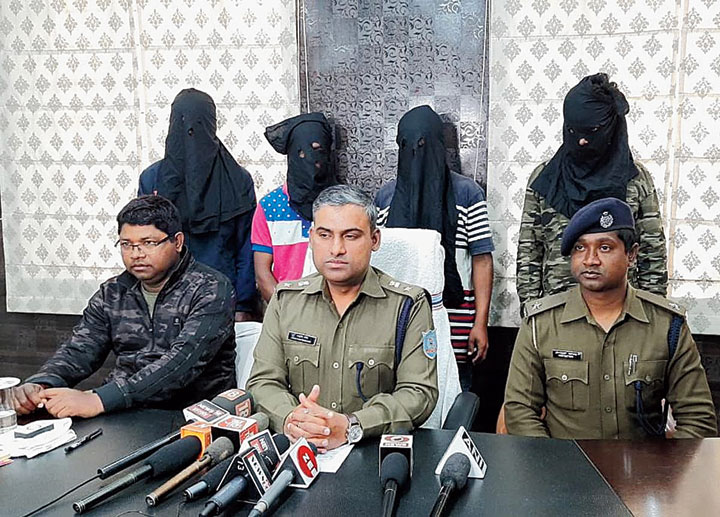 ---
Ranchi
|
Published 16.01.20, 06:38 PM
|
---
Six underage girls were gang-raped while they were returning after sunset from a Makar Sankranti fair on Wednesday night in Khunti district around 30km south of the state capital, villagers have alleged.
Police, however, maintained it was a case of sexual harassment.
The incident occurred when eight girls in the age group of 14 to 16 years were returning from the annual fair in Rangrodi, said a resident of Hatudami, a village that is part of Fudi panchayat around 20km from the Khunti district headquarters under Khunti police station area, where the assault took place.
"The girls were walking back to their homes in Argodi, around 12km from the fair. The girls had reached near Hatudami when a group of men intercepted them. Two girls managed to escape but the men caught hold of six. They were taken to isolated places and raped," the villager said, requesting anonymity.
"The two girls who escaped informed their parents after they reached home around 10pm," the villager added. "The matter was communicated to the mukhiya of Fudi panchayat, Harman, who with the help of other villagers after an hour-long search found the girls from a house in the same village. Police were informed in the morning."
Khunti superintendent of police (SP) Ashutosh Shekhar said police had registered an FIR under provisions of the Protection of Children from Sexual Offences (Pocso) Act.
"Primary investigation suggests that it is an incident of eve-teasing (sexual harassment). However, a thorough probe has been started. Four men have been arrested and one has been detained," the SP said. "A motorbike and a scooter used in the crime has been seized. The victims have been produced before child the welfare committee and a medical board has been constituted for their medical examination. An FSL (forensic science laboratory) team investigated the place of occurrence."
He added: "Those arrested include Rajesh Sanga, Praveen Nag, Avinath Saimurga and Sagar Aind. All are residents of Hatudami village."
The SP later issued a press statement with the same details. The statement, however, did not mention under which sections of the Pocso Act and IPC Act the FIR was registered.
Khunti police station officer in-charge Jadeep Toppo could not be contacted. Calls to his mobile phone was on Thursday evening were met with a "phone switched off" message.
South Chotanagpur range deputy inspector-general of police (DIG) A.V. Homkar, who said he had visited the spot and spoke to the girls, supported what SP Shekhar said.
"The girls have told us that they were not raped. It is a case of eve-teasing," DIG Homkar said.
Contacted for clarification, member of Khunti child welfare committee Baidyanath Kumar said: "The statement of the victims is being taken. After the statements are taken, medical examination will take place. Only when all the procedures are completed can anything concrete be shared."