Covid: Dhanbad bus owners face financial woes, seek relief
Operators rue district administration hadn't paid them for transporting migrant workers during lockdown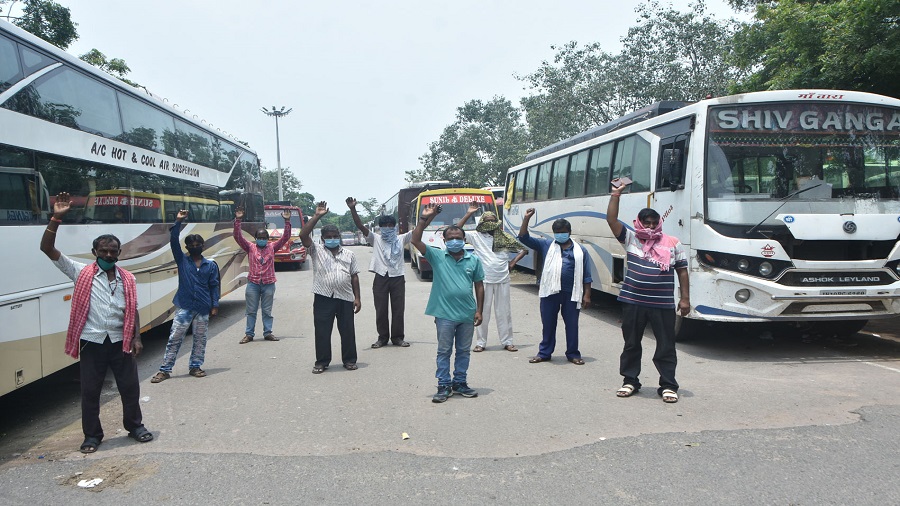 Bus owners, drivers and conductors hold a demonstration at the Bartand bus stad in Dhanbad on Thursday
Gautam Dey
---
Dhanbad
|
Published 30.07.20, 06:10 PM
|
---
As many as 100 bus owners of Dhanbad have renewed their appeal to the district administration to clear their dues, accrued since March when they needed to pitch in to transport migrants,  saying they now have virtually zero resources to pay their staff.
"Our financial condition is such that we cannot even pay the school fees of our children," said Sunil Singh, who runs Sunil Deluxe Transport Company. "Despite the lack of income, we are compelled to pay minimum compensation to our drivers and conductors because they are solely dependent on us," said Singh, whose company used to operate 10 buses in various parts of Bihar and Bengal, besides several  districts of Jharkhand.
Singh pointed out that the state government had not provided any relaxation in the quarterly road tax payment of Rs 8,600. "The worst is we are facing penalties in case of delay in payment of road tax, too," he said, appealing to the authorities to consider their plight.  
Dhanbad district transport officer Om Prakash Yadav said they were unable to pay bus fleet owners because of unavailability of funds. "We are awaiting the arrival of allotment from the state government to pay bus owners for transporting migrant workers to different parts of the state during lockdown."
On road tax payment during the lockdown period, Yadav said, "These issues are being looked into at the state government level and any relaxation will be applicable for all bus owners including those of Dhanbad."
Sanjay Singh, patron cum convenor of Bus Owners' Association of Dhanbad, said they hadn't been paid for duty during the Lok Sabha and Assembly elections of 2019, and even the municipal  elections of 2014.
"Our buses were used for transporting polling parties and security personnel. We have requested the district administration and the transport department several times, but our dues aren't being cleared."
Before the advent of the killer virus, he said, over 150 buses used to operate from the Dhanbad bus depot and places such as Jharia, Patherdih and Katras. The would travel across the state and to several places in Bihar and Bengal. "Now, all that has stopped," he added.