Covid-19: mutated variants of virus may dodge RT PCR tests, warns Jharkhand govt
Health secy recommends HRCT for symptomatic patients who test negative, caps test price at Rs 3,000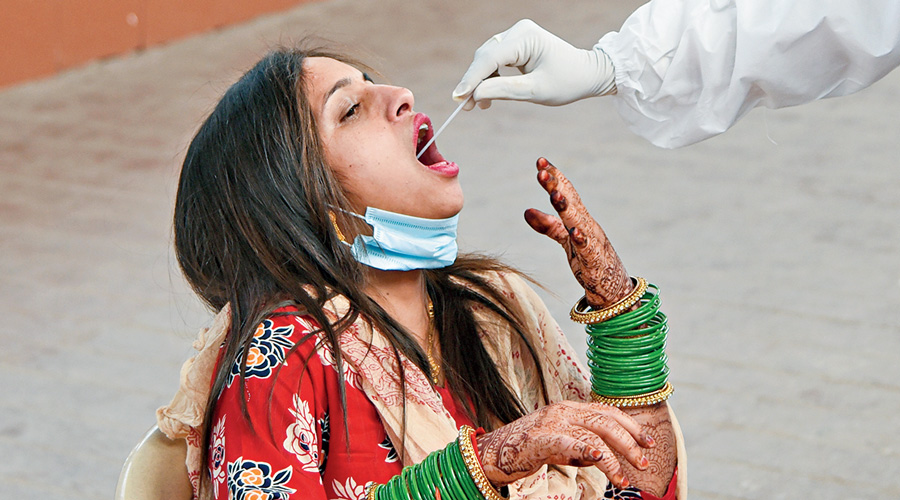 ---
|
Ranchi
|
Published 20.04.21, 03:37 PM
---
The state health department has admitted that mutated variants of the coronavirus were capable of dodging RT PCR tests, thereby recommending that those with Covid-19 symptoms undergo High Resolution Computed Tomography (HRCT) even if they test negative in RT PCR test – the most preferred way of testing the infection so far.
In a letter addressed to the Director of Rajendra Institute of Medical Sciences (RIMS), health secretary K.K. Soan said new variants of the virus, already traced in Ranchi and East Singhbhum, can "escape" RT PCR tests sometimes. HRCT, that can detect lung abnormality using a CT scan, has the potential of a diagnosis under the current circumstances even in patients who have tested negative in RT PCR, Soan said.
In the wake of the importance of HRCT test and the government's responsibility of providing affordable medical attention to all residents of the state, the health department has decided to cap the cost of HRCT at Rs 3,000.
"It is hereby decided to fix the rate of HRCT in state setups to Rs 2,500 in 16 slice machine. It can exceed up to maximum of Rs 2,750 in 16 to 64 slice machine and to a maximum of Rs 3,000 in 64 to 256 slice machine. The price shall include the cost of PPE kits and sanitisers required, if any," the letter stated, directing all radiological, imaging and sonography centres in Jharkhand to adhere to the rate chart fixed by the government.
Last week, the Regional Genome Sequencing Laboratory at Bhubaneshwar's Institute of Life Sciences (ILS) confirmed that the UK mutant strain and double mutant strain of the coronavirus were found among patient samples in Ranchi and East Singhbhum – two of the worst-affected districts in Jharkhand in terms of caseload and casualties. The mutant strains of the virus have higher transmissibility and are also likely to evade the immune response of the body developed after exposure to the unmutated virus or vaccination, claim scientists.
HRCT, doctors say, is used to diagnose infection in lungs through a CT scan. It is used for imaging of lungs to identify any abnormality. However, health experts also say that HRCT is not necessary for all Covid-19 patients and should be used only for such patients who show severe symptoms of the infection. Ideally, people staying in home isolation do not need an HRCT test, doctors say.
Jharkhand is facing the worst ever wave of Covid-19 since the beginning of April. As per government data, the state is reporting around 4,000 cases and 50 deaths every day on an average, leading to a shortage of beds in hospitals and long queues outside crematoriums for cremation of Covid-infected bodies.