Covid-19: 50 active cases at Bokaro Steel Plant
Testing camp to continue; SOP introduced to contain spread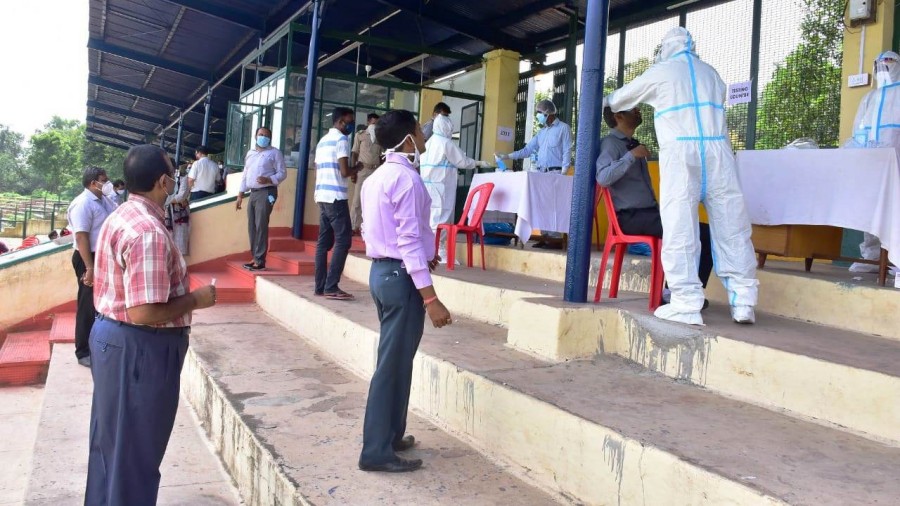 ---
|
Bokaro
|
Published 04.09.20, 10:30 PM
---
The coronavirus has started spreading at the Bokaro Steel Plant (BSL), a unit of Steel Authority of India Limited (SAIL). This was discovered during a Covid-19 testing camp organised exclusively for BSL employees by the district administration at Mohan Kumar Mangalam Stadium on September 2.
Of the 477 employees of BSL who gave their samples, 27 tested positive. With this, the total number of active cases increased to 50 in the company, sources said. A total of 82 BSL employees have tested positive so far. The virus has affected every stratum: from ground-level staff to a higher executive director (ED). The ED is undergoing treatment at Bokaro General Hospital (BGH). Among the Covid-19-positive employees are five BSL officials of ranks of deputy general manager and above.
Bokaro civil surgeon Dr A.K. Pathak said that the authorities have decided to continue the camp at the stadium to test all the 11,000 employees and officials at BSL. "We will restart the camp soon," he said.
The company's Bokaro Steel Township has seen a spike in cases. In the district, 1,798 people have tested positive. Of them, 1,071 have been cured of the virus while 712 are active cases.
The BSL management, which was appreciated for performing remarkably well among the units of SAIL in terms of cash collection in August, is worried over the spread of the virus in the company. BSL is operating at about 80 per cent production capacity and receiving large orders from domestic as well as international players.
SOP introduced
The spike in Covid-19 cases has forced the management to introduce a SOP on preventive measures to contain the spread. Officials and employees have been instructed to follow the recommended steps strictly.
BSL chief of communication Manikant Dhan said: "We have introduced an SOP for employees and asked them to follow the procedures strictly as there is a spike in positive cases."
The advisory says that any employee returning from other states will have to remain in home quarantine. No employee will be allowed to leave the station without approval.
The company management has said that non-disclosure of information by any employee or official will be viewed strictly. In case the residence of any employee is declared a containment zone by the district administration, he/she has to remain at home till the de-notification.
Power plant chief executive tests positive
The chief executive officer in charge of Bokaro Power Supply Company Pvt Ltd (BPSCL) has also tested positive for the coronavirus. He is asymptomatic and at home. The BPSCL is a power project of SAIL-DVC and supplies its entire power production to BSL. It is situated inside BSL.
The first case at BSL was reported on July 10. The director of BGH, run by BSL, was also infected by the virus in August. The coronavirus also infected several doctors. A majority of them have been cured.