Covered walkway, ramp at Tatanagar station
The ramp will connect the new footbridge with the second entry at the Burmamines-end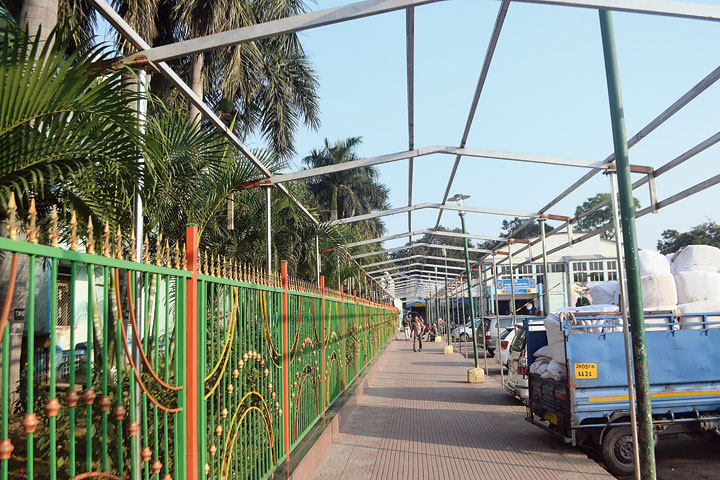 The under-construction pathway outside Tatanagar station on Wednesday.
Picture by Animesh Sengupta
---
Jamshedpur
|
Published 18.12.19, 09:20 PM
|
---
The A1-category Tatanagar station will soon get a covered pathway leading to the old railway footbridge.
A ramp, connecting the new footbridge and the second entry at the Burmamines-end, will also come up as part of the development plans to be implemented in the next six months.
"The engineering department has worked out elaborate details about the pathway and other projects, which will be implemented as part of station development plan. The new initiatives are aimed at passenger convenience," station director H.K. Balmuchu said.
He said the pathway, which would have an overhead shed, would facilitate smooth movement of passengers inside the station. "Sometimes during rush hours, there is a huge crowd in the portico area and the main entrance. The construction of the new pathway will help passengers enter the station as well as leave it without much trouble," Balmuchu added.
About the ramp, which will connect the new footbridge with the second entry at Burmamines, he said: "Currently, the new footbridge connects platforms 1, 2 and 3, but the ramp will help to connect the footbridge with the second entry as well as the other two platforms."
The senior rail official said five more retiring rooms would be renovated by Indian Railway Catering and Tourism Corporation (IRCTC) on the first floor of the main station building. "The five renovated rooms would be ready for passengers by March next year," he said.
Chakradharpur railway division is also making efforts to develop amenities at Adityapur, a B-category station, 5km from Tatanagar.
Adityapur station hosts 15 pairs of trains and witnesses an average daily footfall of 20,000 passengers.
The Chakradharpur railway division is preparing a blueprint for adding more passenger amenities at that station, which like Tatanagar, falls on the important Howrah-Mumbai main line.
"As there is no scope of expansion at Tatanagar, Adityapur can be developed into a satellite station," said Manish Pathak, spokesperson for Chakradharpur rail division.
He said platforms and sheds would be extended. The station will also get water vending machines and bottle crushers.