Court acquits BJP Shashi Bhushan Mehta in murder case
The court of judicial commissioner Vijay Srivastava here on Friday acquitted all the six accused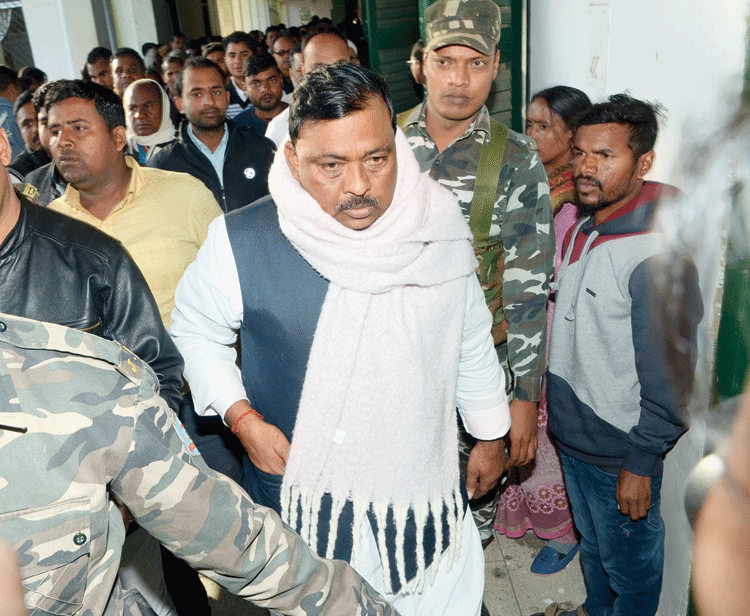 Shashi Bhushan Mehta in Ranchi on Friday.
(Prashant Mitra)
---
Ranchi
|
Published 20.12.19, 09:00 PM
|
---
A court on Friday acquitted Kushwaha Shashi Bhushan Mehta, the BJP candidate from Panki Assembly seat, and five others accused in the May 11, 2012 murder of a teacher at Mehta's school.
Mehta, a Palamau-based politician, had joined the BJP in October this year.
Suchitra Mishra, a widow, had joined as teacher of Hindi at Mehta's Oxford Public School in Ranchi in 2008. Her post-mortem found she was pregnant. Mehta was arrested along with five others, Rajnath Singh, Pradeep Kumar Paswan, Dharmendra Thakur, Anup Singh and Satya Prakash.
The court of judicial commissioner Vijay Srivastava here on Friday acquitted all the six accused.
"The prosecution had produced 14 witnesses but they could not substantiate the allegation. A few hair were found in Mehta's car but the strands had no roots which help in detecting the DNA ," said Biswajit Mukherjee, senior lawyer of Ranchi civil court .
Among the witnesses were Mishra's sons Abhishek and Ashutosh and her brother Gagan Pandey.
"So nobody killed my mother," said Ashutosh,
who left the court premises with folded hands, on the verge of tears. "Some aliens from other planets killed my mother. This is the celebration of the sainthood of Mehta. Don't expect justice if you are poor and law abiding. Thanks, everybody. Thanks, Ranchi police, for your classic, shoddy investigation; thanks, everybody who denied justice to my mother. God will count your sins."
Supporters of Mehta at the court erupted in celebration after his acquittal. They did not allow Mehta to speak to the media.
Inspector-general of police (operations) Saket Kumar Singh was the Ranchi senior superintendent of police when Mishra was murdered.
"I'm engaged in security arrangements for the Assembly election in Dumka," Singh said when contacted for comment. "I don't exactly remember what evidences were gathered…. I also don't know the nature of deposition of witnesses before the court and how far the prosecution presented the facts."
Mishra's brother Gagan Pandey vowed to carry on the fight for justice.
"I'm not surprised. We will file our appeal before the high court," he said. "Only after getting a copy of the judgment can I understand the ground of Mehta's acquittal. Ranchi police carried out a half-baked investigation and deliberately left loopholes. In 2014, I had met the then Union home minister Rajnath Singh to request him for a CBI inquiry into the murder. But I was not aware that the BJP would pick Mehta as a candidate."
Mishra's family members had stormed the stage when Mehta joined the BJP, and a cousin of hers had spat at him.