Third death in state, 2 discharged
A 58-year-old woman from Hindpiri in Ranchi died early on Tuesday morning, a day after she tested negative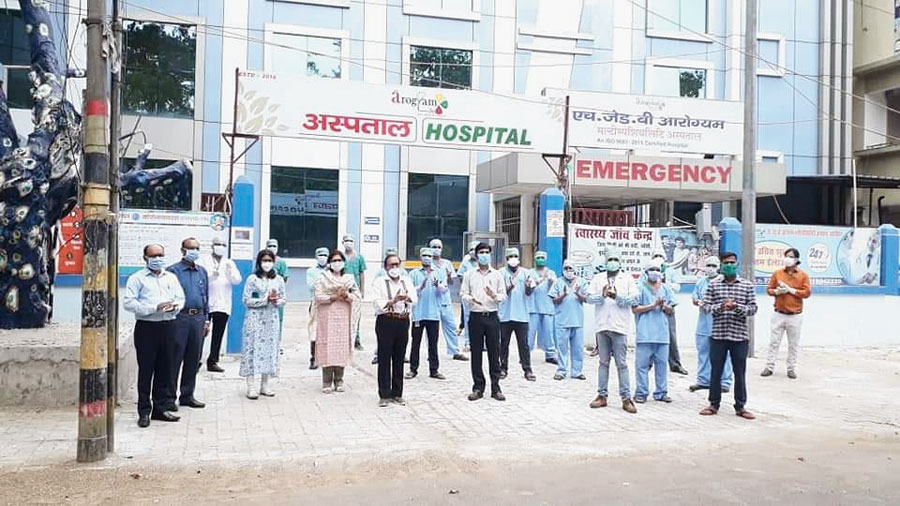 ---
|
Ranchi
|
Published 21.04.20, 06:45 PM
---
Two Covid-19 patients were discharged from hospital and Jharkhand registered its third death due to the novel coronavirus pandemic on Tuesday.
A 58-year-old woman from Hindpiri in Ranchi died early on Tuesday morning, a day after she tested negative for the virus, said Ranchi deputy commissioner Rai Mahimapat Ray.
"She was suffering from kidney and heart ailment and diabetes," said RIMS director Dr D.K. Singh. "She was also regularly undergoing dialysis. The injection fraction of her heart was only 28 per cent and the condition was not improving. She was infected with coronavirus which might have affected her heart. However, on Monday she tested negative. On Tuesday she had a heart attack. In case of diabetes heart patients can have painless heart attacks,"
On April 12, the woman's husband had died at RIMS, becoming Jharkhand's second Covid-19 fatality after an elderly man from Saram village of Bokaro district died on April 9.
In Hazaribagh, two Covid-19 patients were discharged from two hospitals on Tuesday. Both patients had tested negative for the novel coronavirus twice, with the final results coming in on Monday.
Both at the state-run Hazaribagh Medical College and Hospital (HMCH) and private hospital Arogyam which has bee turned into a Covid-19 facility by the administration, doctors nurses and other staff clapped as they discharged their respective patients.
Both patients are from Vishnugarh.
"I have no words to express myself. My family members are also happy," said the man who was discharged from the HMCH.
Doctors said both patients will remain in home quarantine for the next 14 days.
Deputy development commissioner Vijaya Jadhav was present at both hospitals when the patients were given the grand farewells.
Hazaribagh DC Bhuvnesh Pratap Singh said doctors, nurses and paramedical staff of both HMCH and Arogyam would be felicitated.