TMH to be fourth Covid-19 test centre
The nearly 1,000-bed hospital got the letter from NABL, the prerequisite for the ICMR to okay a facility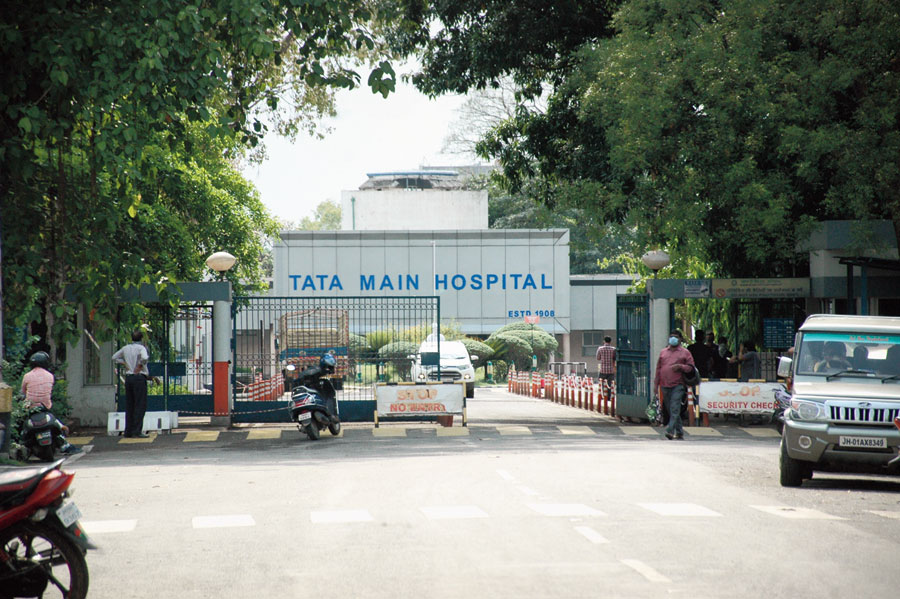 The Tata Main Hospital in Bistupur, Jamshedpur.
(Bhola Prasad)
---
Jamshedpur
|
Published 21.04.20, 06:44 PM
|
---
Tata Main Hospital, the state's biggest corporate hospital in terms of patient-handling capacity, is expecting a nod from the Indian Council of Medical Research this week to become Jharkhand's fourth facility authorised to test samples for the novel coronavirus.
The nearly 1,000-bed hospital, established in 1908, got the letter from National Accreditation Board for Testing and Calibration Laboratories (NABL, a constituent board of the Quality Council of India which provides accreditation to laboratories for performing tests as per ISO norms) on Monday for its virology unit, the prerequisite for the ICMR to okay a facility to test samples for Covid-19.
"They already have RT-PCR machines and the other necessary requirements for conducting testing of Covid-19 samples and had applied for the ICMR nod last month," said principal health secretary Nitin Madan Kulkarni.
"The ICMR did not give permission on the ground that the hospital's virology unit needed to have NABL certification. After getting NABL certification they have applied again to the ICMR. We hope to get the nod within a day or two. This would help immensely in decreasing the burden of sample testing on the three testing centres."
Tata Main's pathology unit and the hospital as a whole has NABL certification; only the virology unit was lacking the NABL certification.
"Our virology unit got the letter from NABL yesterday (Monday)," said Dr Rajan Chaudhry, general manager, medical services, Tata Steel. "We have applied again to the ICMR for permission to test Covid-19 samples and assist the state government in enhancing the testing facilities. We would be getting the testing kits from the state government as soon as we get a nod from the ICMR."
The viral research diagnostic laboratory unit at Patliputra Medical College and Hospital (PMCH) in Dhanbad, after receiving the nod from the ICMR, started testing samples for Covid-19 on April 13 to become the third testing centre in Jharkhand along with Rajendra Institute of Medical Sciences (RIMS) in Ranchi and MGM Medical College in Jamshedpur.
There are two RT-PCR machines each at MGM, RIMS and PMCH. While each RT-PCR machine at Ranchi and Jamshedpur have a capacity of testing nearly 42 samples a day (84 samples in a day at each centre), the RT-PCR machines at Dhanbad can test 12 samples a day (24 samples a day).
Sources in the virology unit at Tata Main said the hospital has one RT-PCR machine and after getting testing kits can do a maximum of 30 tests daily.
"The three existing centres have a fully functional VRDL (virus research and diagnostic laboratory) unit while we are a beginner.
"However, with the professional expertise we have, we will manage to test daily a maximum of 30 samples," said a senior official at Tata Main's virology unit.
East Singhbhum deputy commissioner Ravi Shankar Shukla, who on Monday visited Tata Main's Covid-19 facility with 500-plus general beds and 67 ICU beds, said testing would commence by this week.
"We are hopeful of getting ICMR nod in a day or two and would be getting testing kits from the health department. We look forward to starting testing from TMH this week," the DC said.
As on Monday, results of 733 samples were pending in Jharkhand.