Hunting festival at Dalma Wildlife Sanctuary stares at lockdown
The nationwide lockdown in view of the coronavirus pandemic has kept the tribals of Jamshedpur indoors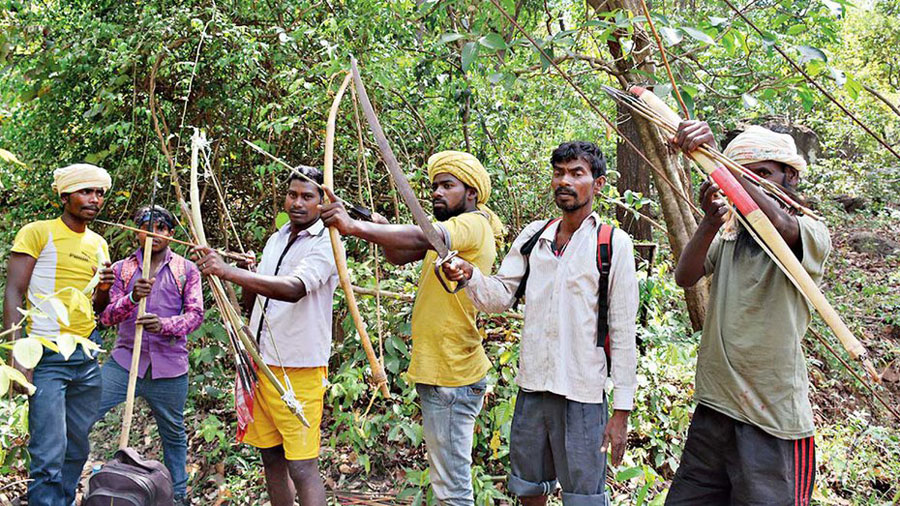 Tribals with traditional weapons head for the hunting festival last year
File picture
---
Jamshedpur
|
Published 04.04.20, 07:09 PM
|
---
The coronavirus pandemic has put tribal outfits in a dilemma on fixing dates for Bishu Shikar, the traditional "bloodless" hunt festival celebrated every year by tribals at Dalma Wildlife Sanctuary.
Bishu Shikar, also known as Sendra, is celebrated every year between April and May. Tribals from Jharkhand, Bengal and Odisha, armed with spears, bows and arrows and even firearms, converge inside the 192sqkm elephant abode, and spend the day there in the festival, held symbolically, as hunting is banned in the sanctuary.
Two separate outfits, Dolma Buru Sendra Samiti (DBSS) and Dolma Buru Sendra Dishua Samiti (DBSDS) are in charge of the festival.
This time, the nationwide lockdown in view of the coronavirus pandemic has kept the tribals living in villages dotting the sanctuary and suburbs of Jamshedpur indoors.
The dates of the festival are normally announced by now. This time, they have not been.
Fakir Chandra Hembrom, general secretary of DBSDS, said: "The lockdown is keeping us indoors. Most of the villages have blocked entry of outsiders. We have not convened a single meeting. So, we have not finalised the date for Sendra yet."
He added they were hoping that the lockdown would be lifted on April 14 but nothing could be predicted in the present situation.
"We are keeping our fingers crossed. The festival will have to be postponed if the lockdown lasts for long. We are in a very tricky situation to say the least," said Hembrom, who lives in Asanboni.
A member of DBSS, which is celebrating the festival for over a century now, admitted the coronavirus scare had tied their hands.
"We are not in a position to start the preparations as such. We need to decide the date (of the festival) and also send invitations to our people in Jharkhand, Bengal and Odisha. Rituals are also involved in lead-up to the festival," said he.
R.P. Singh, assistant conservator of forest (ACF), said nothing could be done now.
"The Sendra organisers are waiting for the lockdown to be lifted. They might convene meetings and send invitations once the lockdown ends. But nothing can be said about the dates of the festival at this point."