10 Covid-19 cases show 2-day cheer not a trend
With this the number of cases rose to 125 in Jharkhand, including three deaths and 27 recoveries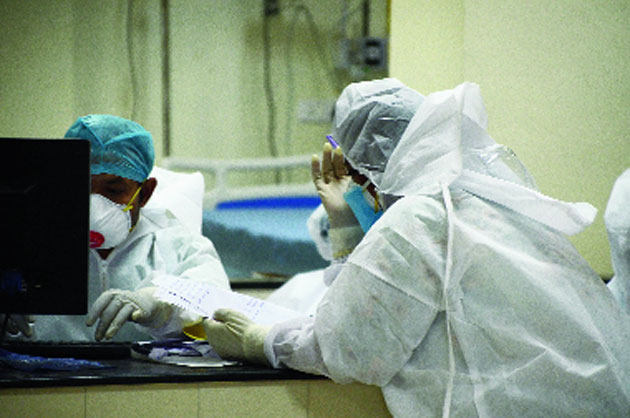 Doctors check sample reports at RIMS in Ranchi on Tuesday.
Picture by Manob Chowdhury
---
Ranchi
|
Published 05.05.20, 08:22 PM
|
---
Jharkhand saw two days — Sunday and Monday — of no new cases of the novel coronavirus being confirmed, but the state is not ready to take any chances.

As many as 10 new cases were confirmed on Tuesday, principal health secretary Nitin Madan Kulkarni said.
Two are from Dumka and eight from Ranchi. With this the number of cases rose to 125 in the state, including three deaths and 27 recoveries.
The two-day lull was being seen as an achievement for a poor state like Jharkhand at a time alarm bells are ringing from all quarters on the dangers of locking down the economy. However, those closely monitoring the struggle against Covid-19 are not ready to see it as a trend of the graph being flattened.
"It is not right to draw conclusions after two days. It is sheer chance that no corona-positive case was detected for two consecutive days while 20 and more than 20 were detected on a particular day," Kulkarni said.
Asked if fewer tests being carried out was behind the two-day cheer, he said: "Testing of around 500 samples is being maintained. Thus except chance nothing else can be said to be responsible."
RIMS director Dr D.K. Singh echoed Kulkarni.
"No test was conducted for four days at RIMS, from where maximum cases of COVID-19 have been detected during the lockdown. The laboratory opened today (Tuesday) and thus we will have to wait and remain in lockdown till a clear-cut trend emerges," Dr Singh said.
Dr Anant Sinha, an alumnus of Armed Forces Medical College, Pune, and director of the Devkamal Hospital in Ranchi, agreed.
"I think samples from Ranchi, which is in the red zone, were tested in low numbers due to closure of the RIMS laboratory for four days while samples of other parts of the state were tested more. If the number of tests will be increased in Ranchi more cases will come. Thus, one should not be happy after seeing the report of the last two days," Dr Sinha said.
Jharkhand has, as of Tuesday evening, had 115 novel coronavirus-positive cases, including three deaths. The number of recoveries has risen to 22 and more are expected to be discharged in the next couple of days.
Ranchi has had 83 cases, the most in any district, out of which 13 were discharged. Bokaro, from where 10 cases have surfaced so far, is at
number two. Of those, seven have been discharged. Ranchi has seen two deaths, and Bokaro one. Other affected districts are Hazaribagh, Dhanbad, Giridih, Simdega, Koderma, Deoghar, Garhwa, Palamau, Jamtara and Godda.