No Sarhul, Ram Navami processions in Jharkhand for the second consecutive year
State government cites rising cases of Covid-19 infection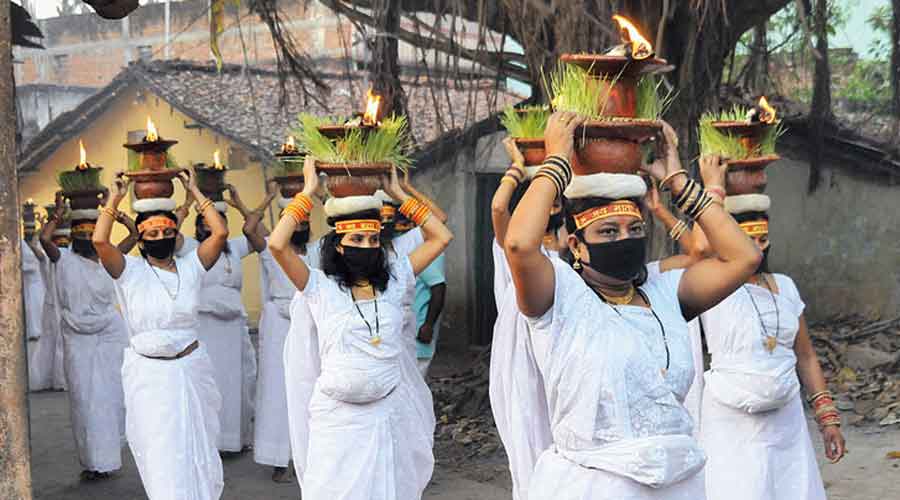 After a meeting with Ranchi deputy commissioner on Thursday, both Kendriya Sarna Samiti president Phoolchand Tirkey and Adivasi Sanjukt Morcha convener Antu Tirkey announced that no Sarhul procession would be brought out on April 14
File picture
---
Ranchi
|
Published 10.04.21, 02:25 AM
|
---
The annual processions for Sarhul and Ram Navami will not be brought out in Jharkhand for the second consecutive year this time because of rising cases of Covid-19 infection.
While the organisers of such processions in Jharkhand capital Ranchi have assured they would follow the guidelines issued by the state government and not bring out any such procession this year, those in other places in the state are also likely to follow it soon.
Both Sarhul and Ram Navami processions were also not brought out last year because of the lockdown while the Jharkhand government has prohibited religious congregations this time.
Every year, different sarna samitis bring out processions from their respective localities that converge at the main sarna sthal at Seromtoli near Ranchi railway station that attracts a huge gathering.
Similarly, processions carrying Mahavir jhandas are brought out from various akhras from across the capital city that culminate at Tapovan Mandir at Nivaranpur in Doranda where a mela (fair) is also organised every year.
After a meeting with Ranchi deputy commissioner on Thursday, both Kendriya Sarna Samiti president Phoolchand Tirkey and Adivasi Sanjukt Morcha convener Antu Tirkey announced that no Sarhul procession would be brought out on April 14.
The administration, however, allowed that five members from each of the Sarna samitis could go to the main Sarna sthal at Seromtoli and perform pujas by turn.
A section of the local Mahavir Mandal led by Jai Singh Yadav has also declared no Ram Navami procession would be brought out on April 21 while another section led by Rajiv Ranjan Mishra demanded some concessions.
The administration may allow performing rituals both at the akhras and also at Tapovan Mandir by small groups that day but any other concession is unlikely to be given under the present Covid situation, most believe.
Meanwhile, Covid infection has considerably gone up in the state, particularly in Ranchi, during the past fortnight.
On March 24,Jharkhand had 969 Covid positive cases with 194 new cases detected that day.
Ranchi alone had 451 cases that comprised of 46.54 per cent of the total cases in the state.
With 1,882 new cases detected on Thursday, the number of total positive cases in the state went up to 9,249, over 9.5 times after a fortnight.
Ranchi alone had 858 new positive cases that day and the total number of such cases rose to 4,721 that accounted for 51.04 per cent of the state's total cases.
As the number of positive cases increased, the recovery rate that was 98.39 per cent in the state on March 25 also slipped to 92.16 per cent on Thursday.