CISF proves friend in need for Bokaro General Hospital
Two persons discharged from hospital, cancer patient from Ranchi also recovers, as praises pour in for medical staff and security personnel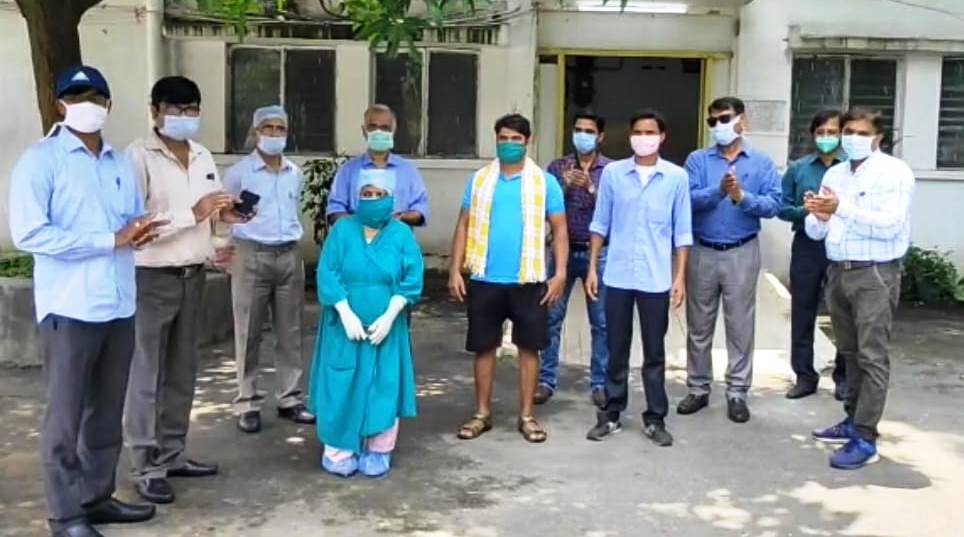 The team of doctors with the persons released from the Covid ward of BGH on Friday
(Telegraph picture)
---
Bokaro
|
Published 19.06.20, 10:25 PM
|
---
A balanced diet, good medical care, vitamins and a healthy dose of positivity and motivational words from medical staff and CISF personnel ensured the recovery and discharge of the last two Covid-19 patients from Bokaro General Hospital on Friday.
A resident of Bokaro, who was tested positive and undergoing cancer treatment in RIMS, Ranchi, also defeated the virus.
The test reports of all three come negative on Friday.
BGH is the only PSU hospital to be declared a dedicated Covid centre in Jharkhand.
The coronavirus patients here were provided food cooked and served by the CISF personnel engaged in the security of Bokaro Steel Plant.
The city became Covid-19 free for the second time with not even a single case reported since June 10.
This is the second time that Bokaro came into the safe green zone. Earlier on May 7, Bokaro was declared Covid-free, but again went back to the orange zone on May 22.
Though testing has been intensified and the reports for 200 yet to come, the health department report said the situation was fully under control. There were 29 positive cases reported since April first week in the district.
Of them, barring the death of two elderly persons suffering from other diseases, 27 have recovered.
Deputy commissioner Mukesh Kumar congratulated the three recovered persons. "Today, two persons from BGH and one from RIMS, Ranchi, went home after recovery. We provided them medical kits and fruits and asked them to stay in home quarantine for 14 days. Of those released, one person is from Manpur, Chandankiyari, who came from Chennai and the other is from Saddam, Gomia who arrived from Mumbai."
He said, "The third person is from Hosir of Gomia in Bokaro who is undergoing cancer treatment at RIMS. At present, the district has no Covid-positive cases."
The BGH medical team performed exemplary service in treating Covid patients, be it an 8-year-old girl or a 75-year-old man.
Moreover, CISF officials had pooled in funds from their pockets to dish out food packets to doctors, health workers and Covid-19 positive patients. The meals are prepared in a separate canteen in the CISF unit under the banner CISF Cares for Corona Warriors," said a CISF officer.
The administration has set up two Covid-care centres with 200 beds to admit asymptomatic patients, if cases spike.The district quarantine centres also have the lowest 271 suspected persons in quarantine who will be released in a day or two with the arrival of test reports.
The efforts of doctors, nurses and health workers of BGH in treating Covid patients were lauded.
Director medical services (DMS), BGH, Dr A.K. Singh said, "Teamwork and cooperation of positive patients helped them perform well. A majority of patients admitted here were asymptomatic. They recovered with proper administration of vitamin-C and B-complex tablets and proper diet. We monitored them closely on CCTVs. Of the 29 positive patients, only two were diabetic and required separate medication,"
On the deaths of two Covid-19 patients, Singh DMS said one was a 75-year-old man who got admitted in a critical condition and died of cardiac arrest. His report came posthumously.
The second patient who tested positive through had suffered brain haemorrhage. The patients who were released praised the behaviour of the BGH medical staff and cleanliness of the ward.
One of the two released from BGH is a man who escaped the quarantine centre in Phusro and fled to his house a few hours before his report came positive.
He said, "I was earlier afraid of the virus but after coming to the hospital his fear vanished. The doctors and nurses instilled courage in me to fight."
The chairman of the infection-control committee of BGH, Dr Aninda Mandal, nodal officer, Dr Gautam and others praised the CISF officers and jawans for their contribution.
The CISF initiative is the brainchild of former deputy inspector-general, CISF, Sarvashestra Ambastha, commandant, Rahul Yadav, deputy commandant, Jitender Singh, Manish Kumar, assistant commandant, Basant Kumar and others.
The wives of CISF officials also stitched masks for the personnel and officials. Mandal said, "The CISF men proved themselves to be real friends in this situation."
Dr A.K. Singh said, "Arranging meals for the patients is highly appreciable. We are thankful to the CISF for accepting this challenge in this difficult time."