Trains chug again, with relief and worries
No clarity on whether friends and relatives of the passengers would be allowed to pick them up from the station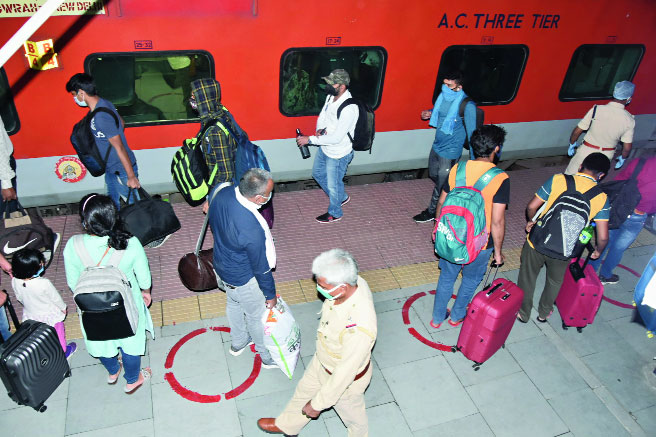 Passengers queue up to board the special train that reached Dhanbad from Howrah on Tuesday.
(Gautam Dey)
---
Ranchi
|
Published 12.05.20, 08:08 PM
|
---
Elaborate preparations were made for the first special train between Howrah and New Delhi which reached Dhanbad station at 8.10pm on Tuesday, and in Ranchi where the first twice-weekly Rajdhani Express will reach on Thursday.

Dhanbad senior divisional commercial manager Akhilesh Kumar Pandey said: "We had made all preparation and deputed adequate number of commercial staff as well as railway security personnel to ensure de-boarding and boarding of passengers by maintaining social distancing."
Another train running from Delhi to Howrah will reach Dhanbad around 6.35 am Wednesday.
"I arrived at my native place at Barmasia in Dhanbad during Holi taking leave of 12 days but had to stay here for more than 51 days due to the lockdown," said Himanshu Pathak, who boarded the train to Delhi with his wife and children.
Dhanbad sub-divisional officer Raj Maheshwaram said passengers arriving by train will be put in home quarantine.
In the state capital, the railways' Ranchi division has started preparations for the Rajdhani Express.
A pair of Rajdhani Express trains, 02454 and 02453, will shuttle between Ranchi and Delhi. Train number 02454 will operate from Delhi to Ranchi every Wednesday and Saturday, starting at 3.30pm. The train will reach Ranchi the next day and will start for Delhi as the 02453 Rajdhani Express every at 5.40pm every Thursday and Sunday.
The first train is set to arrive in Ranchi on Thursday.
However, as of Tuesday afternoon, there was confusion among officials whether passengers who arrive by the train would have to undergo test and quarantine, and how they would travel onward from the station since public and private transport is banned during the lockdown.
There was also no clarity whether friends and relatives of the passengers would be allowed to pick them up from the station.
"Our job is to ensure their safe travel," Niraj Ambastha, the Ranchi divisional railway manager, said on Tuesday. "Once they reach Ranchi, the standard operating procedure of the state government will be followed. The district or administration will take further decision about their onward journey or whatsoever the administration deems fit."
At Ranchi Junction, a large number of technicians, cleanliness workers and other staff of the railways were seen cleaning and sanitising platform number one on Tuesday.
A total of 40 new fans have been installed and within a couple of days another 40 fans will be installed. Water kiosks have been made functional, and staffs will be deployed for regular cleaning and sanitising of the taps. Cleaning is going on round the clock.
Ambastha said that passengers who will board at Ranchi for Delhi will have to undergo screening and they will be allowed to travel only if they are declared fit.
Passengers will have to reach at the station at least 90 minutes before the start time to complete the necessary process.
All entry and exit points have been sealed and Railway Protection Force personnel will be deployed to escort passengers outside the railway premise. Special arrangements for parking have been done.
However, no food kiosks will be opened on the platform.
Asked if arriving passengers would have to undergo a Covid-19 test and mandatory quarantine, principal health secretary Nitin Madan Kulkarni said: "Anybody, not just labourers, can travel by this special train. But I don't know whether they can be subjected to quarantine and other related procedures. I don't have any idea."
A secretary-rank official, who requested anonymity, said he was clueless.
"Better to ask the railway and the central government about this. We had not demanded any such special train except the Shramik special train so I am not aware of the post-travel procedure," said the official.
Ranchi deputy commissioner Rai Mahimapat Ray said the transport department would decide on the details.
"Our transport secretary K. Ravi Kumar will take a final decision in this regard," Ray said when contacted.
The transport secretary, when contacted, said: "Directions/travel advisories will be issued."
A senior official of Ranchi district administration, who requested anonymity, outlined some possible steps that could be taken by the administration.
"I think special buses will be arranged for their onward travel to their respective districts for which they will have to pay the fare," the official said. "The district concerned will be informed about their arrival. Swabs of all passengers will be taken. It is most likely that they will be kept in quarantine."