Tata Motors to resume work soon
About 1,000 ancillary units in Adityapur to open up, giving thousands their jobs back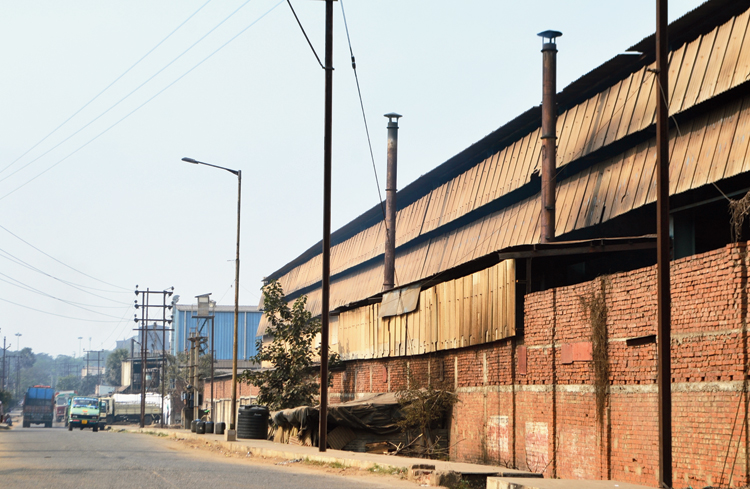 A factory at the Adityapur industrial area, closed since the lockdown.
Picture by Animesh Sengupta
---
Jamshedpur
|
Published 26.05.20, 09:03 PM
|
---
Operations at the Tata Motors' plant in the steel city's Telco are likely to resume in the next couple of days.
The issue of resumption of operations at the Tata Motors manufacturing unit in the steel city was sorted out during a meeting on Tuesday between the state transport minister Champai Soren and representatives of the automobile giant at the local Circuit House.
After a brief talk with the Tata Motors delegation, the transport minister spoke to chief minister Hemant Soren over the phone.
The transport minister later told The Telegraph that he talked to Hemant and apprised him of the situation at Tata Motors.
"The chief minister has given a nod to restart operations in the company after I told him of Tata Motors management's eagerness to start work. The chief minister gave his consent. He told me that the management of Tata Motors may restart work in the next two days," minister Champai Soren told The Telegraph.
Representatives of Tata Motors had met minister Soren on Monday as well, expressing their willingness to resume operations at the plant that had been closed since the lockdown.
The closure affected not just the company's own production and employees' well-being but also the jobs of around 40,000 workers at the ancillary units near the steel city that supply spares to the automobile major.
The transport minister added that once the Tata Motors restarts operations, about 1,000 ancillary units in Adityapur industrial units will also open up, giving thousands of workers their jobs back.
"But the management of Tata Motors must ensure that employees maintain social distancing inside the plant, otherwise there will be chances of a novel coronavirus outbreak."
Tata Motors produces truck and bus chassis of various models by assembling parts of the vehicles produced in the ancillary units in the Adityapur industrial area.
After the lockdown started on March 25, assembling work at the Tata Motors plant in Telco came to a standstill. Ancillary units in Adityapur where some 40,000 workers work also ceased to function.