Survey to check ration supply in Jamshedpur
Complaints have come from different parts of state that food grains are not being distributed properly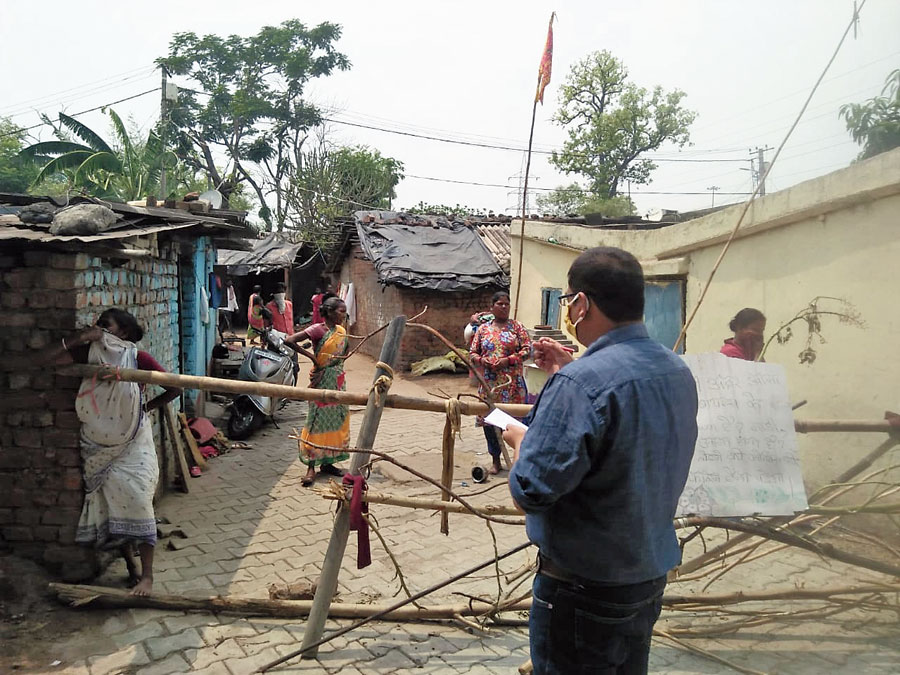 JNAC city manager Sandeep Kumar interacts with the slum dwellers in Sonari, Jamshedpur, on Saturday.
Picture by Bhola Prasad
---
Jamshedpur
|
Published 18.04.20, 06:44 PM
|
---
Four teams have fanned out in different parts of Jamshedpur to conduct surveys in urban slums and detect anomalies, if any, in food grains distribution for the poor who have been hit the hardest by the lockdown.
Jamshedpur Notified Area Committee (JNAC) special officer Krishna Kumar said that the four teams are being led by the city managers concerned and tagged with two other members for the survey work.
"We have been directed by the deputy commissioner (Ravi Shankar Shukla) to find out if the food grains (10kg of rice) to be distributed for the month of April and May for all ration card holders are being given properly or not. The four teams led by city managers have fanned out in different urban slums and shanties which are mostly inhabited by unorganised-sector workers and the poor who have been worst hit in the lockdown," said Krishna Kumar.
Sources in the district administration revealed that complaints have come from different parts of state that food grains are not being distributed properly and the move is to crosscheck with the beneficiaries if they have received the food grains properly or not.
"We have read in newspapers about locals complaining that public distribution system (PDS) shopkeepers (ration shops) cheat in terms of weight of the food grains and also about duping the poor on the issue of distribution of food grains by some or other means. The survey would ensure that we get an idea from the urban slums if the distribution has been done properly or not and the benefit reached to the intended poor," said a marketing official in the district supply office.
On Saturday, the survey work was done in Sonari and Kadma areas.
There are 57 lakh households in the state identified under priority household and antyodaya categories and covered by the PDS. The state government had already announced that around 7 lakh households that are not covered under the PDS but had applied for ration cards will also be given 10kg of rice for April and May.
However, on April 14 the state government also included 8.4 lakh white card holders (who are not below poverty line and would get only kerosene from ration shops) among beneficiaries who will get 10kg of rice.
The JNAC also geo-tagged 143 identified spots on Google Maps for distribution of food twice a day.
"Anybody can locate the places to get food both in the afternoon and evening. We are feeding over 50,000 persons twice daily," said JNAC city manager Ravi Bharti.