Hygiene e-class for snack sellers
Food safety authority to distribute certificates after training is over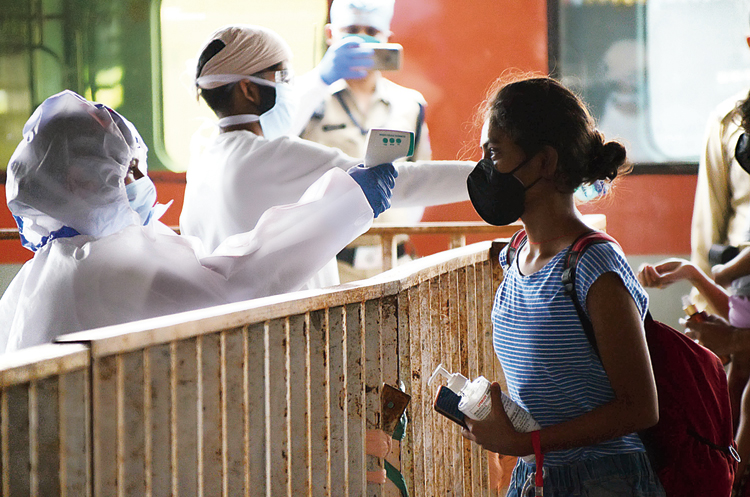 A health worker screens a woman at Ranchi railway station on Sunday after her arrival from Delhi by the Rajdhani Express.
Picture by Manob Chowdhary
---
Jamshedpur
|
Published 17.05.20, 07:26 PM
|
---
Street food vendors will have to attend online training sessions on following new hygiene norms in the wake of the Covid-19 pandemic once the lockdown lifts and they resume business.
In a meeting organised over the Zoom app on Saturday, the National Association of Street Vendors of India (NASVI) apprised the vendors of its initiatives and the upcoming training for which the association has approached the Food Safety and Standards Authority of India (FSSAI).
At the training sessions, street food vendors would be made aware of the importance of maintaining proper hygiene like using a hand sanitiser and keeping clean towels. They will also be asked to put up flex banners listing the dos and don'ts for customers near the stalls.
Those attending the training will get a certificate from the FSSAI.
The NASVI has written to the Union home ministry and the Jharkhand government to allow vendors resume business with limitations during the fourth phase of the lockdown.
"We have requested the Union finance minister to give grants and not loans. Moreover, we don't know if businesses will run like before because the pandemic has made people afraid about street food. Many vendors won't be able to repay the loan. We are also trying to make the vendors aware about hygiene norms at their stalls through online training," programme director of NASVI (eastern zone), Rakesh Tripathy, said.
Tripathy said they had a core team in Jamshedpur and Dhanbad and would start the training with organisations affiliated to them from this week.
The first phase of training will cover 500 vendors from Bihar and Jharkhand.
"If there are 50 vendors in one marketplace, they can put up their stalls every alternate day. This can help (in social distancing). The certification from FSSAI will help customers understand that we do care for hygiene," Tripathy added.
In Jamshedpur, the Street Food Vendors Union, which is registered with NASVI, has been distributing groceries to food vendors hit hard by the lockdown.
Pankaj Srivastava, president of the union, said they had distributed groceries to 350 vendors across the city. "Food vendors have no money. We are distributing groceries to them with NASVI funds," he added.
Health check
Over 800 migrants, who were stranded in Delhi because of the ongoing lockdown, now extended to May 31, got off the train at Ranchi. All had to pay for their own tickets as well as the fare of the buses that ferried them to their homes. Those who had arranged for private cars paid Rs 14 per km.