Footballers await government help
They are having to make do with a frugal diet and are worried about bagging berths in the final team
Purnima Kumari practises near her house in Simdega.
Picture by Bhola Prasad
---
Jamshedpur
|
Published 09.06.20, 08:50 PM
|
---
Eight tribal women footballers from Jharkhand, counted among prospective players for the Indian team for the FIFA U-17 Women's World Cup to be hosted in February-March 2021, are having to make do with a frugal diet and are worried about bagging berths in the final team.
Barring the financial assistance provided by All India Football Federation (AIFF), the girls are yet to receive any assistance from the state government as a package is stuck in red tape.
Sources in the Jharkhand Football Federation (JFA) said the eight girls from the rural hinterlands of the state had been in the national preparatory camp being held at Goa for the FIFA U-17 Women's World Cup and were released for a short break in February-end.
They were supposed to assemble again at Goa in March-end but the lockdown was imposed then.
"The girls, mostly from poor backgrounds had a frugal diet in March, April and even in May before the AIFF assistance came in the last week of May. Several months of such diets would have an impact in their preparation for the prestigious competition and they would find it tough to find berth in the final team whenever the camp is called again after lockdown," said a JFA official based in Jamshedpur.
"We used to get milk, eggs, banana, bread and oatmeal for breakfast and rice, dal, roti, salad, green vegetables, chicken and fish for lunch at the national camp. During dinner, we have chicken or mutton, roti and green vegetables. There was a provision for milk too.
"However, I cannot demand such things and had to depend on rice and dal and roti sabji in frugal amount," said mid-fielder Sumati Kumari from Sisai block in Gumla district, some 110 km from Ranchi.
Sumati lost her mother while at the camp in September 2019 and her father is a farmer.
Sumati has been with the Indian probable team and played against Bhutan, Hongkong and Turkey.
Similar is the condition of defender Sudha Ankita Tirkey from Chainpur block of Gumla district.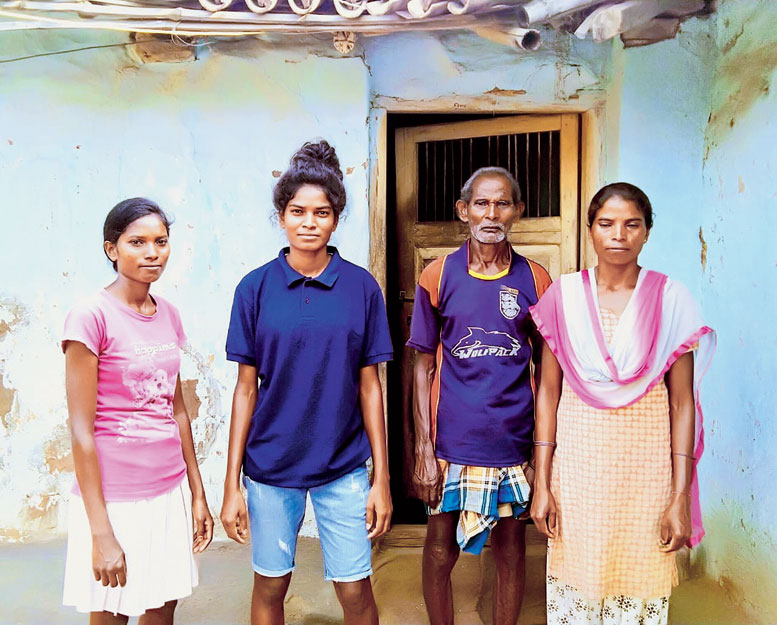 "We cannot afford a rich diet and have to live on dal, roti and rice during the lockdown. Shops were also closed and had to manage with whatever we had. We are worried at our prospect in the team.
"We got the ration delivered at our doorstep, thanks to the efforts of the state chief minister who took cognisance of our plight but rich diets are still a far cry," said Sudha Ankita Tirkey, whose father had died several years ago and mother works as a cook in a school.
Purnima Kumari, a defender from Simdega, 170km from Ranchi, also had similar tales of poverty and expressed gratitude to the national football federation for doling out their stipends directly to their bank account.
"I lost my mother in childhood and stayed with my elderly father who still farms on the small field along with my elder sisters who work as labourers.
"We had to manage with whatever ration we had during the lockdown. However, in the last week of May we got our stipend in a bank account from AIFF," said Purnima Kumari.
State sports director Anil Kumar Singh said: "They are indeed pride of our state and are in contention to get a berth in the Indian eves team for the prestigious FIFA U-17 World Cup. We had decided to provide them with a daily allowance of Rs 175, transferred directly to their bank account, and prepared a proposal and sent it to the state finance department in April but we are yet to get it cleared, which has resulted in problems for the players."
AIFF media manager Nilanjan Dutta said that they had transferred the stipend amount in April and also released advance stipends for the months of June, July in May-end.
"We had transferred their monthly stipend of Rs 10,000 to each player's bank account in April and also released in advance the stipend for May, June and July in the last week of May. There were some difficulties faced by the women footballers in withdrawing amounts from the banks, especially in rural areas.
"Our coaches and support staff are constantly in touch with the players through webinars and online session to ensure players' fitness does not suffer during the lockdown. We are waiting for a directive from the Union government on resuming the national camp," said Dutta.
The eight players from Jharkhand in the preparatory camp include Purnima Kumari, Sumati Kumari, Sudha Ankita Tirkey, Amisha Bakhla, Astham Oraon, Sunita Kumari, Nitu Linda and Salina Kumari.