Food warrior who pays from his pocket
Chowkidar feeds 600 hungry mouths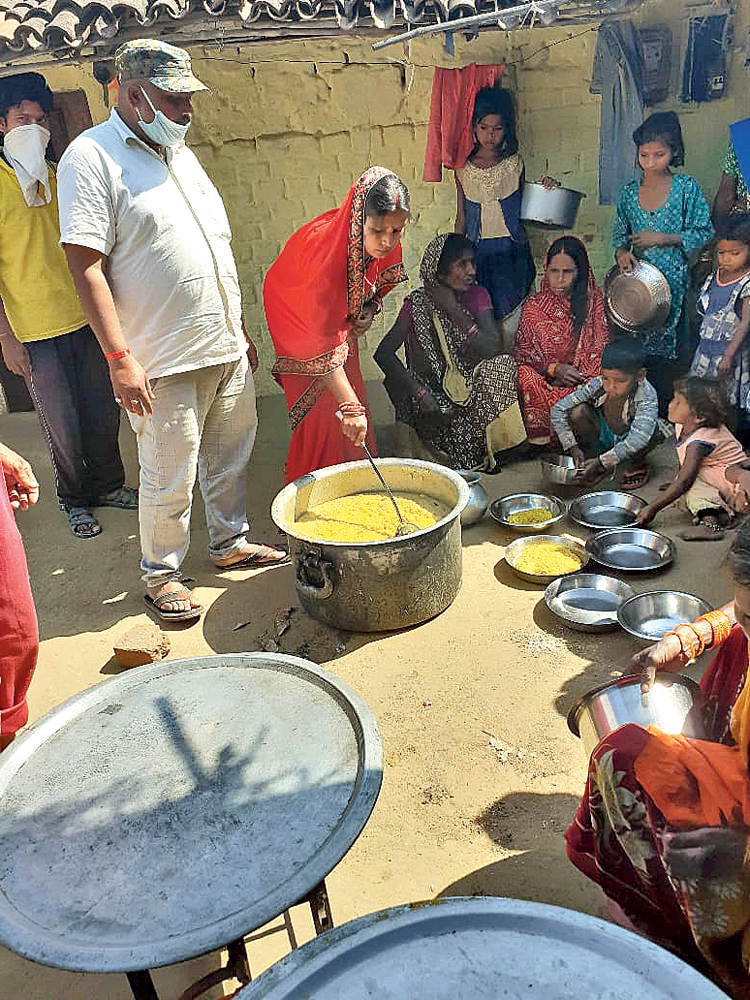 ---
---
A chowkidar with Palamau district's Chainpur police station has fed 600 poor people without taking a single grain from others.
A Dalit, chowkidar Sanjay Ram chose another extremely poor Dalit hamlet in Kolhuwa, where he fed 300 people on Saturday and another 300 on Sunday and said he would do this again on Monday for the same number of Dalits, as he has "this much capacity to feed the poor for three days."
The Telegraph tracked Ram with the help of his boss, Chainpur inspector R.R. Shahi, on Sunday.
Then, the chowkidar and his wife Soumayya Paswan and their other co-villagers were distributing haldi aloo-bhunjya khichri among the Dalits of Kolhuwa.
Ram said: "I am a Grade IV staff. My monthly salary is around Rs 30,000. I come from a humble background and I understand what hunger means. My wife and I decided to feed the poor for three days starting Saturday. I wish the more better-off do this in hamlets of their choice."
Ram's four children are too young to lend a helping hand to their mother, but they are nonetheless excited to see 30kg of rice and 10kg of pulses getting cooked in the vicinity every day.
Inspector Shahi said: "I salute the chowkidar for his magnificent job of feeding the poor Dalits who are far poorer than him and that too on his own without collecting even a grain from fellow villagers."
Shahi, who has some two years of service left in the police force before he retires, said: "I see many affluent people saying big things and showing their concern about the hungry but I have never come across anyone feeding the poor like our chowkidar."
But Ram has only one request for his fellow villagers. "I know many people are good and can afford to feed others. Please start doing so," he humbly entreats.
Palamau SP Ajay Linda said he had requested his chowkidars, cops and officials to help the poor fight hunger. "I am glad they are doing this. DGP M.V. Rao via video-conferencing also asks us about our cops' contributions."