Do-or-die walk from Chennai to Garhwa
Papu and Vishal walked 40km to 50km daily, sleeping at petrol pumps, under trees and on the sides of highways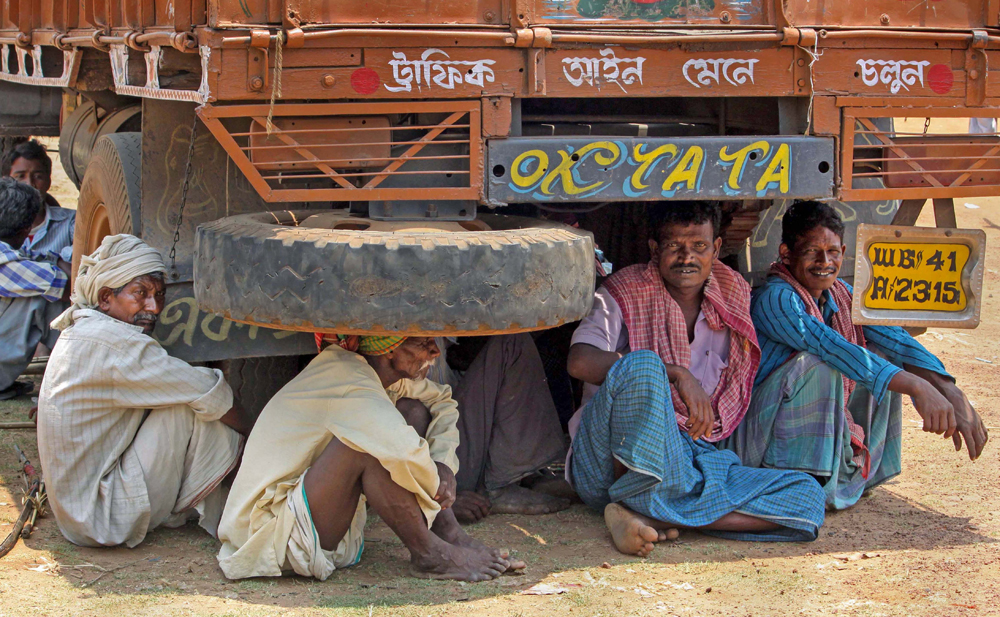 Migrants rest under a truck on NH-60 near Illambazar while waiting to travel back to their native places in Jharkhand, during the ongoing Covid-19 nationwide lockdown, in Birbhum district, Tuesday, May 19, 2020.
(PTI)
---
Garhwa
|
Published 21.05.20, 07:37 PM
|
---
Two young migrant workers, Vishal Bediya and Papu Bediya, walked almost 1,500km from Chennai in 21 days to reach their homes in a village in Garhwa district.
The duo, who walked up to 50km a day, often without food, reached Bansidhar Nagar at 7pm on Wednesday.
They were screened by the local administration and sent to home quarantine ar Rakshi village under Dhurki police station area.
Vishal, the more articulate of the duo, said that their money had exhausted during the nationwide Covid-19 lockdown. "We are construction workers," Vishal said. "When the lockdown first started, we were supposed to get two months' of salary. However, our employer fled without paying any of us. Papu and I are from the same village, we gave each other courage and support for a month in Chennai. But when faced with utter penury and hunger, we decided to walk home," added the man.
Papu and Vishal walked 40km to 50km daily, sleeping at petrol pumps, under trees and on the sides of highways.
Did they not fear being crushed by heavy vehicles?
"No, we had no choice. We cried in pain on many nights as our feet hurt, and compromised with hunger on many occasions. If someone fed us something along the way, we ate it, otherwise we just drank water," Vishal added.
On a few lucky days, they received sympathy from policemen and truck drivers on the way, who helped the duo shorten their journey by giving them a lift in their vehicles, Vishal added.
Papu said they could not sleep for several nights fearing they might not see their families again.
"We had taken a big risk when we decided to go back home on foot. Initially, we had doubts but we had no option. It was a do-or-die situation," Papu said.
Papu said he remembered their first day's walk.
"We walked for nine hours from 3am to noon on the first day. When we stopped, there were big blisters on Vishal's feet. "He was in extreme pain the first day," Papu said.
But they had to go on, Papu said. "We started our walk at 4am and walked till noon. After rest under any tree or shed, we walked again from 3pm till 9pm. On many nights, we cried in pain as our feet and soles hurt."
Back home, both said they would not leave Jharkhand.
"Kaan pakadte hain, aadhi roti khayenge par bahar kaam pe nahi jayenge (we promise that we will make do with half a roti but will not go out of Jharkhand to earn)," said Vishal.
5 positive in Koderma
Koderma: Five persons from Koderma, including a woman and her 6-year-old daughter, tested positive for the novel coronavirus late on Wednesday evening, taking the total active cases in the district to 12 , said Dr Sharad Kumar, nodal officer, Covid-19, Sadar Hospital. The woman had come with her family from Surat by a Shramik special train on May 12. The three others came from Mumbai.