Designer masks keep penury away for Ranchi lady
Homemaker falls back on sewing skills to earn money for family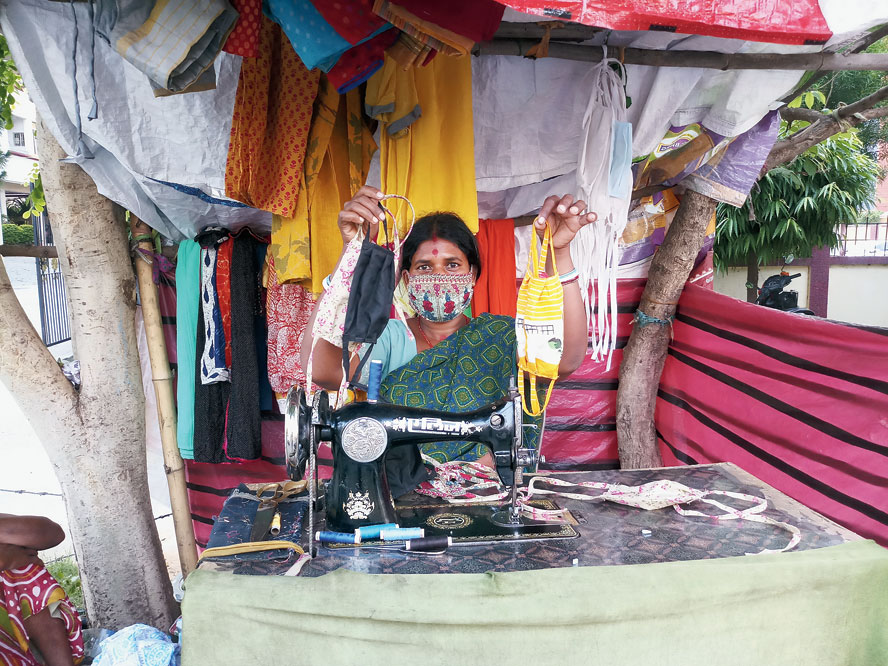 Sukarmani shows her designer face masks at her makeshift shop on Kanke Road in Ranchi on Tuesday.
(Vijay Deo Jha)
---
Ranchi
|
Published 19.05.20, 08:07 PM
|
---
Homemaker Sukarmani Devi, 40, refused to buckle when the coronavirus-induced lockdown forced her auto-rickshaw driver husband Shiv Shankar Lohra to sit idle at home, choking the only source of income for the family of four.

The resident of Nawasoso village near Kanke dam on Kanke Road, decided to revive her sewing skills to lift her family out of penury.
Sukarmani took out her defunct sewing machine and got it repaired. She visited houses in her neighbourhood and got some small orders of stitching and mending garments and began work by the roadside.
Now, she stitches colourful face masks for her female customers besides fashioning masks from leftover fabric and distributing them among the poor for free.
"As a homemaker, I had no idea how to support my family when my husband became jobless. I had to do something or else we would have starved to death. I was worried for my two children who are in school. Stitching is the one skill that I had learnt during my younger days. So instead of lamenting my misfortune, I decided to start stitching garments. Initially, I did not get any order, but gradually things started to look up," she said.
After finishing her household duties, she arrives at her makeshift shop around 8am and works there till sunset.
On how she decided to make face masks, Sukarmani said: "It began with stitching masks for my family members. One day, a customer gave me a piece of cloth to make blouses. From the leftover fabric, I prepared two matching face masks for her. She was very impressed and asked me to prepare around a dozen masks more," she said.
She now stitches at least a dozen colourful double layer masks per day and sells them as Rs 20 apiece.
She also distributes free masks to those who can't afford it.
"It costs me nothing except the labour and time. I have a lot of scrap fabric that I stitch together to look like face masks and distribute them among the needy. Few days back, I saw a beggar and two children sitting on the roadside. I quickly stitched three masks for them and asked them wear them without fail," she said.
On whether she will wind up her work once the lockdown is lifted and her husband returns to his job, she said she would continue using her skill to earn extra money from home.
"This crisis has taught me a lesson that we will all need to become economically independent," she said.