Communal harmony at Giridih funeral
Muslim neighbours help son in cremating his septuagenarian mother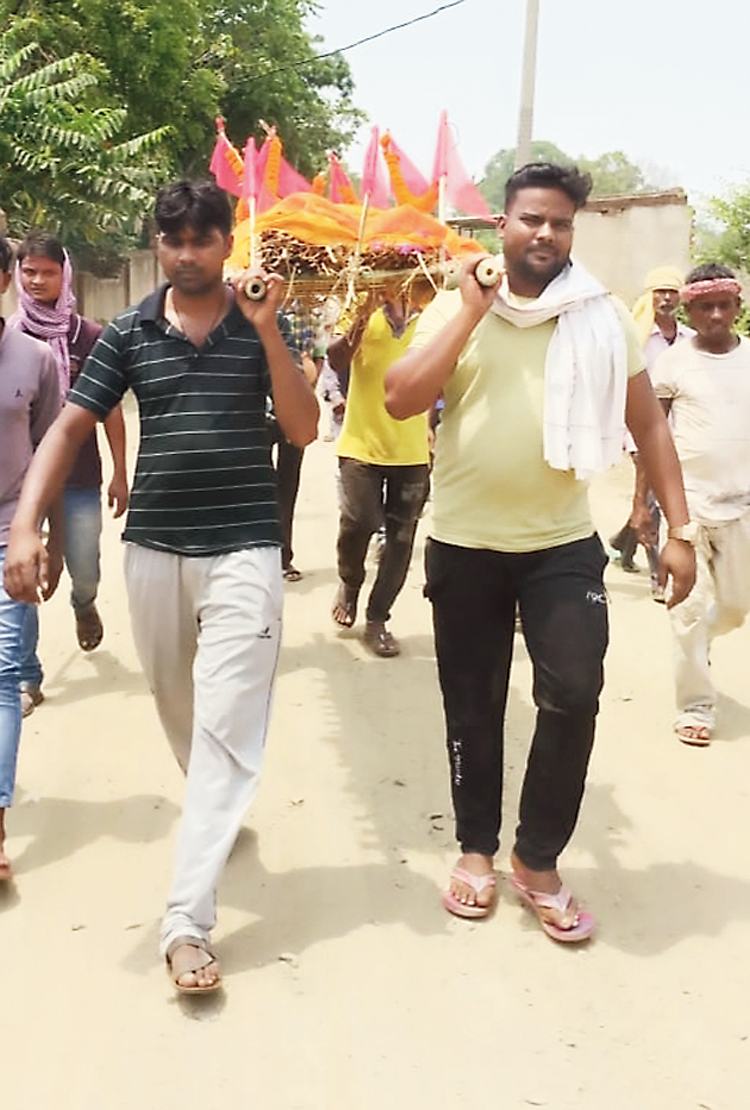 Muslim community members carry the body of their Hindu neighbour at Giridih.
Picture by Shabbir Hussain
---
Ranchi
|
Published 09.06.20, 12:05 AM
|
---
A funeral in Giridih proved that communal harmony is still a cherished value.

When Lakhia Devi, the septuagenarian mother of Jogeshwar Turi died in Giridih on Saturday afternoon, his Muslim neighbours were first to reach their house and many of them accompanied him to cremate his mother on Sunday.
Though Jogeshwar's relatives who live in far away could not reach, others living in nearby areas reached for the funeral. They were joined by Jogeshwar's Muslim neighbours. "This is nothing new as we have always been very close to one another in our tola (locality)," said Sarfaraz Ansari, a youngman of the locality, adding they were peacefully living in the area "just like relatives".
Jogeshwar is one of the two Hindu families living in Muslim dominated Nicha Tola of Paharidih village under Giridih muffasil police station area though more Hindus reside at Upar Tola, the other locality of the same village. He further informed that they all stand by one another whenever such need arises.
Lakhia Devi was unwell after she suffered a paralytic attack a week ago and breathed her last on Saturday afternoon.
"The funeral was taken out on Sunday after her relatives arrived," Ansari informed, adding many of them such as Mohammad Shamshad, Mohammad Bilal and Mohammad Tahir joined the funeral procession, did whatever was required and stayed till the cremation was over.
They had attended the cremation even when Jogeshwar's father who died a few years ago, Ansari further said, adding their Hindu neighbours also do the same whenever there is bereavement in a Muslim family. They also join one another whenever there is a happy occasion, he said.
"We actually also had a sense of gratitude to the lady," Ansari further said, adding she once acted as a midwife in the village and had helped many women of the village during their labour and even took care of and nursed the newborns. "Some of my uncles got such nursing from her," he further said, indicating they were thus sort of indebted to the deceased woman.