Man shouts at jumbo herd, dies
Chandil's first such fatality after lockdown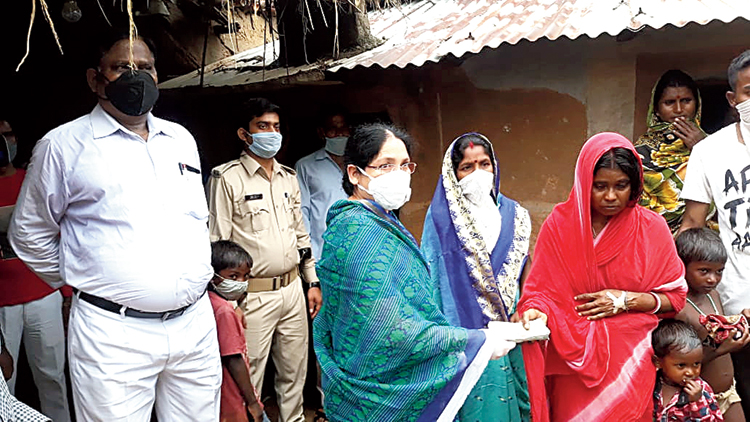 ---
---
A villager was trampled to death by a herd of elephants after he apparently whistled and shouted at the jumbos early on Wednesday.
The incident occurred at Chandil forest range in Seraikela-Kharsawan district, around 45km from Jamshedpur.
Before this, Chandil, famous for elephant attacks and pachyderms damaging crops, had not witnessed a incident of single man-animal conflict since the lockdown was clamped. The villagers seldom ventured out of their homes since the mahua liquor brewing units at the villages and jungles were closed due to strict police patrolling.
Foresters said Hazari Pramanik, 40, perished on Wednesday because he blew a whistle and shouted "hathi hathi (elephant)" after watching the jumbos crossing a mud road near Chhatardih village under Nimdih police station limits around 6.30am on Wednesday.
Foresters said Pramanik had gone near a pond to answer nature's call when he saw the herd.
"He began whistling and shouting at the herd. The elephants were moving towards a different direction but Pramanik's foolishness cost him his life. The herd would have spared him had he not shouted," a forester said, quoting villagers who saw the incident.
The body of Pramanik was sent to the Seraikela hospital before it was handed over to his family. JMM Ichagarh legislator Sabita Mahto handed over Rs 50,000 to the wife of the deceased for completing the last rites.
Chandil forest range officer Ashok Kumar said Pramanik's wife will get compensation of Rs 4 lakh after all the paperwork is completed.
"The Chandil forest range has not witnessed a single man-animal conflict since the imposition of the nationwide lockdown.
But one cannot do anything when people try to irritate elephants. Pramanik could have saved himself had he not acted in a foolish manner," Kumar added.
According to him, the herd had been stationed at a nearby jungle close to Chhatardih and the
forest patrol was busy through the night driving it away.
The elephants were tired and moving through an area near the pond.
"The elephants cared little about the presence of Pramanik till he began shouting. The herd would have proceeded to another jungle near Chhatardih," Kumar said.
When mahua liquor brewing was rampant in the area before the lockdown, drunk villagers would slip into the jungles and sometimes would tease elephants, resulting in tragedies.
But the lockdown had brought about visible positive changes in the Chandil forest range, including a pause in man-animal conflict till now.