Allow us to stage shows, musicians, band operators cry out
50 out-of-work performing artistes take out silent march in Dhanbad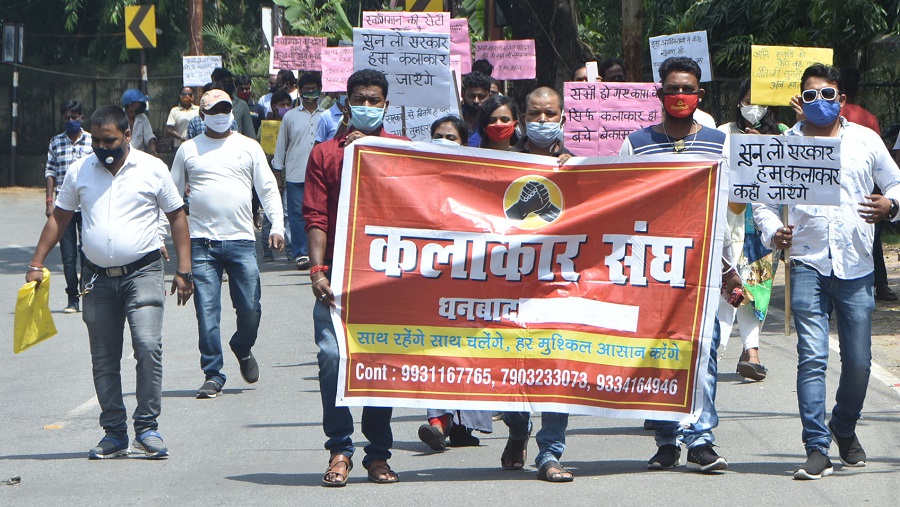 ---
|
Dhanbad
|
Published 15.09.20, 06:22 PM
---
Over 50 out-of-work performing artistes, including band operators, singers, musicians and drummers, took out a silent march here on Tuesday to draw the attention of the authorities to their plight after the lockdown killed their livelihood.
Walking from Rangatand to Randhir Verma Chowk, the protesters were carrying banners appealing to the state government to come to their help.
"Apne halaton ko kaise kah payenge-jiteji sunlo sarkar ab ham to mar hi jayenge; Ehsan nahi ehsash karo, ab hamari pida ka Abhas Karo;" read some of the banners.
The artistes demanded that the government grant them permission to start staging programmes so that they could start earning a living.
Harish Kajaria, a Bhajan singer of Jharia, said, "My family of six, including my wife, two children and elderly parents, are dependent on my income of around Rs 40,000 per month. The last programme I did was at Barharwa in Bhagalpur in February. Since then, I have not earned a single paisa due to the lockdown," he told The Telegraph Online on Tuesday.
Kajaria, who does PR for Kalakar Sangh, an association of artists, said all his savings had been exhausted in the last six months. "We will be compelled to beg for alms if permission is not granted to us to organise programmes, which are our sole source of sustenance," he said.
Abhishek Singh, a sound system operator of Mugma area of Nirsa block, agreed with Kajaria. "Our income is dependent on religious programmes like Bhagvati Jagran held in temples, besides orchestra shows and marriages. But since none of these programmes, except marriages, is being allowed we have had zero income in the last six months," he said.
Raju Anuragi, president of Kalakar Sangh, Dhanbad, said, "If the government is giving permission to all activities gradually then there should be no harm in allowing artists to hold public programmes. We are committed to follow all the SOPs related to social distancing," said Anuragi, a folk and devotional singer.
Sangh general secretary Pankaj Modi claimed permissions had been granted to organise such programmes in states like Rajasthan and Bihar provided all Covid safety norms were adhered to.
"We had written to the state authorities here but did not receive a response. This prompted us to hit the streets," said Modi, also a devotional singer.