3 social outfits feed the needy in Jamshedpur
A 25-member team of volunteers from Bistupur social outfit Biswajit Manimela fed hot khichdi to 62,000 people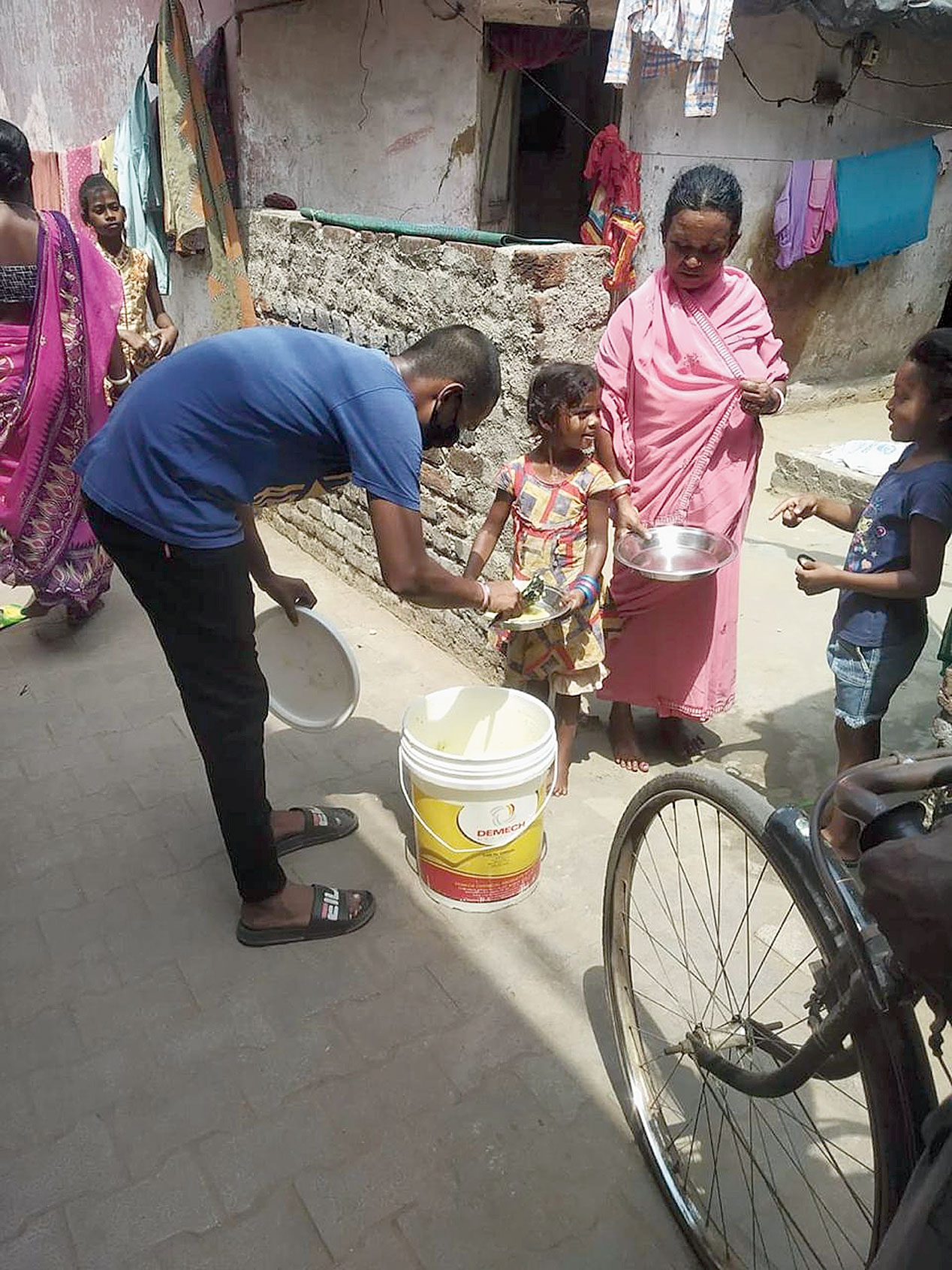 Members of Naman, a social outfit, distribute food at Bhuiyandih.
(Bhola Prasad)
---
Jamshedpur
|
Published 17.04.20, 09:50 PM
|
---
Three social outfits of the steel city are working overtime to ensure the needy, who have been hit hardest by the lockdown, get the basics to survive.
On Thursday, a 25-member team of volunteers from Bistupur social outfit Biswajit Manimela fed hot khichdi to 62,000 people, mostly slum-dwellers in and around the steel city.
It's a morning to evening affair for the volunteers, who collect food prepared at the kitchen, a state government and Tata Steel-ISKCON initiative, at the Ramdas Bhatta Community Centre.
"We collect piping hot khichdi and carry it to slum areas in Burmamines, Mango, Sonari, Kadma, Govindpur, Telco, Ghorabandha, Sakchi, Sidhgora, Baridih, Manifit and others on a dozen-odd vans. It is a very satisfying feeling to see the smiling faces of the poor," said Biswajit Manimela deputy president B.S. Prakash Rao.
"Every day, we are feeding khichdi to over 50,000 at least, but we ask people to bring their own utensils," he added.
Another social outfit, the Uttar Pradesh Sangh, has made huge donations to help in the virus combat.
President of the Sangh, Vijay Singh Rana, said they donated Rs 15 lakh, including Rs 11 lakh to the PM CARES Fund, Rs 3 lakh to CM's Relief Fund and another Rs 1 lakh to the Tata Steel Foundation Fund. "Our donations are for Covid victims. We are contemplating to donate more," said Rana. "The entire world is passing through a critical phase, we all have to do what we can."
No other local organisation in the steel city has made such a huge donation.
Naman, another social outfit, has distributed edible items and cooked food among 10,000-plus poor people in various localities of the steel city.
"Our members distribute food in Sakchi, Bhuiyandih, Sitaramdera and even in several areas on the city outskirts. We will not allow any poor person to go without food or die of starvation," said Amarpreet Singh Kale, the founder of the outfit. "We will continue with this till the lockdown lifts."