Cops from 3 states grill terror suspect
Md Kalimuddin Mujahiri apprehended by the state anti-terrorist squad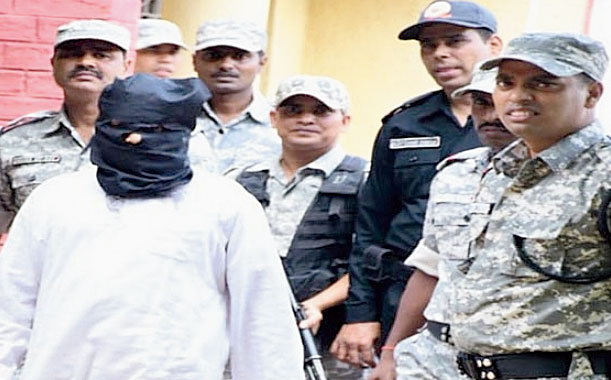 ---
---
Suspected al Qaeda operative Md Kalimuddin Mujahiri, apprehended by the state anti-terrorist squad (ATS) from near Tatanagar station on Sunday, is now being interrogated by ATS teams from both Bengal and Odisha, besides Jharkhand.
Kalimuddin, 45, who had been sent to Ghaghidih Central Jail after his arrest, is currently on seven-day police remand from Tuesday.
Kalimuddin, who remained underground since December 2016 when he fled the steel city after his name surfaced as an operative of the al Qaeda in the Indian subcontinent (AQIS), is being interrogated on the youths whom he allegedly radicalised, East Singhbhum district senior superintendent of police Anoop Birtharay said.
Leading the team of ATS Jharkhand is deputy superintendent of police (ATS) Awadh Kumar Yadav. But the SSP confirmed that the terror suspect was also being interrogated by ATS sleuths from Bengal and Odisha.
The SSP said that Jamshedpur police would also interrogate Kalimuddin in connection with a 2016 Arms Act case filed with Bistupur police.
Though Kalimuddin is basically a resident of Rangaon in Ranchi district, he has a house in Jamshedpur's Azadnagar in Mango.
Here, he ran a madarsa where he allegedly radicalised youths from the steel city as well as different parts of Jharkhand.
According to a source in the ATS, Kalimuddin had allegedly spread a network of AQIS in Bengal.
"Having fled the steel city and declared absconder by the ATS, Kalimuddin went to Asansol and subsequently Calcutta where he started radicalising local youths. He had also gone over to Murshidabad and Malda where he held meetings aimed at new recruits, again to radicalise them," said the source from ATS, Jharkhand.
"However, it seems he sneaked into Jharkhand in these three years too," the source added. "We are also interrogating the suspect on where he would stay during his visit to the steel city and other cities of Jharkhand, the people who helped him spread the word among youths."