Congress slams communal slant
Rajiv Shukla alleged the BJP government for promoting corporate houses at the cost of farmers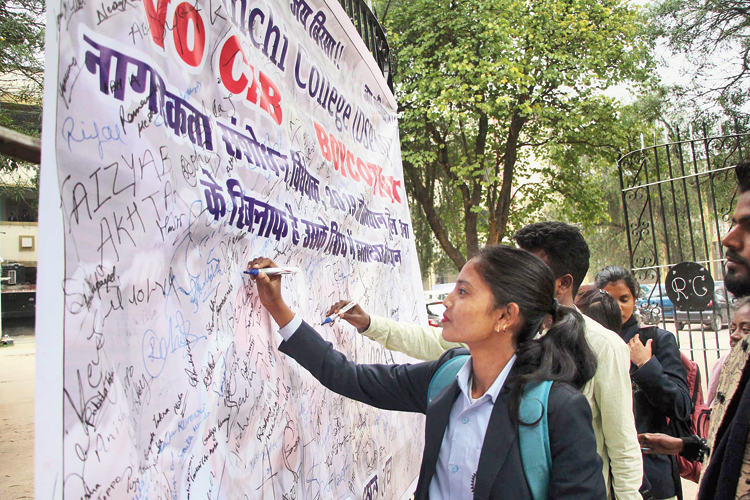 Shyama Prasad Mukherjee University students at the signature campaign against Citizenship (Amendment) Act and National Register of Citizens organised by the students' union at the university main gate in Ranchi on Tuesday.
Picture by Prashant Mitra
---
Ranchi
|
Published 17.12.19, 06:40 PM
|
---
Former Union minister and national spokesperson of the Congress Rajiv Shukla on Tuesday alleged that the BJP was trying to give a communal colour to university protests by students against the Citizen (Amendment) Act passed by the Narendra Modi government.
Addressing newspersons at the Congress headquarters in Ranchi, Shukla said the police used force against students.
"Instead of consulting students and people, the government passed the bill. Now even Maharashtra CM Uddhav Thackeray has expressed his reservations over the Act. People are now fed up with the BJP governments. Right from farmers to students, housewives and shopkeepers, nobody is happy. The economy of the country is in a bad shape," he said.
Shukla accused the BJP government of protecting and promoting corporate houses at the cost of farmers.
"We brought the land acquisition and rehabilitation Act to protect land of farmers. But the BJP tampered with it," Shukla said.
"In Jharkhand, the BJP government tried to tamper with the CNT and SPT Act so that industrialists from Gujarat are given land. In Santhal Pargana, land was given to an industrialist to set-up 400 megawatt power project. But the BJP and Jharkhand chief minister Raghubar Das were more concerned about how Bangladesh would be given power from this power project, the CM was not bothered about the power condition in Jharkhand," he said, alluding to the Adani power plant in Godda.
He blamed the BJP for "fooling youths in the name of giving them jobs". He also raised the issue of how small government schools were merged with big ones, resulting in closure of many schools in villages.