Colourful ode to Tagore
Students, teachers celebrate Basanta Utsav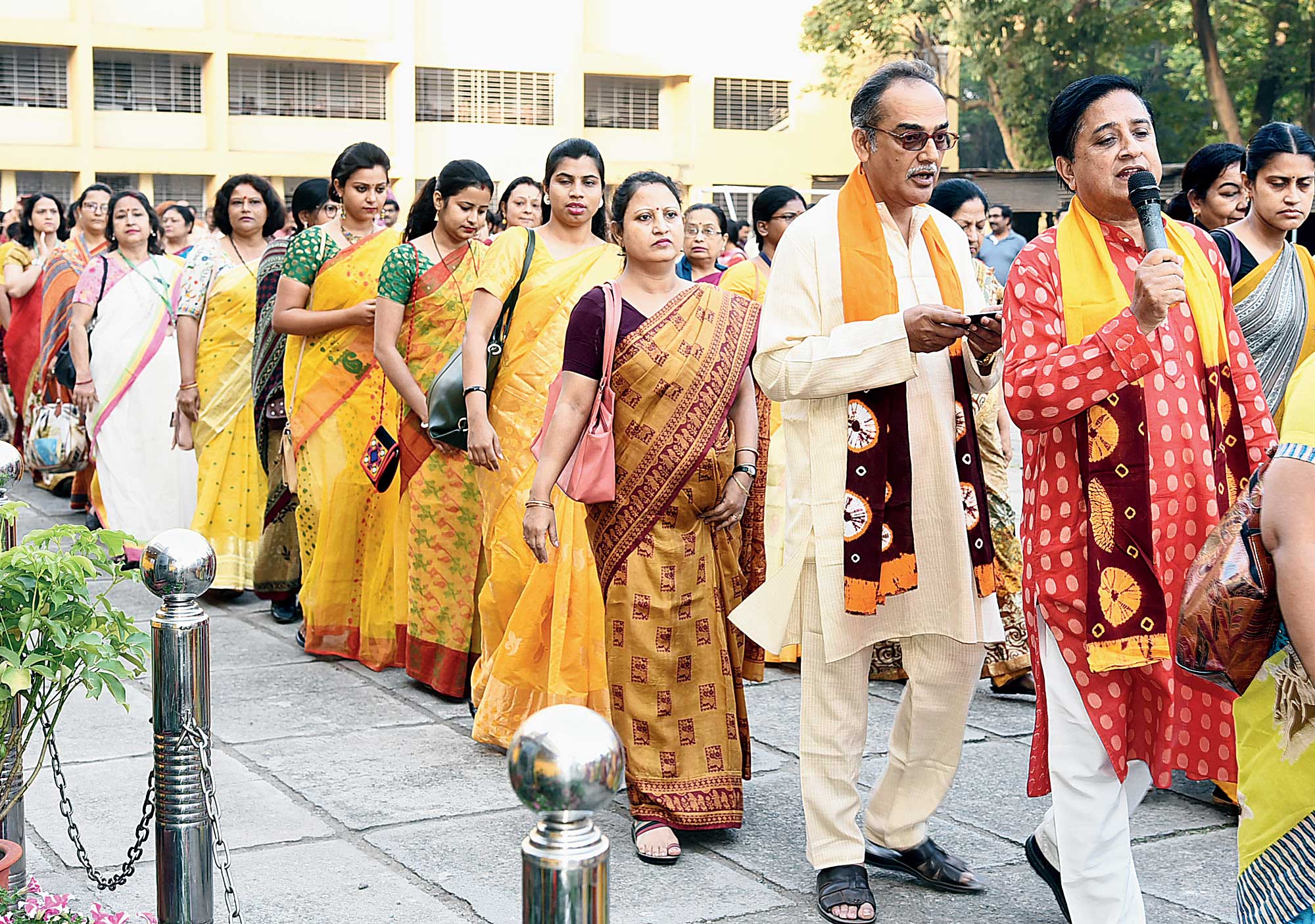 ---
---
Rabindrasangeet reverberated in the air as students and teachers smeared one another with gulal during Basanta Utsav in the steel city on Sunday.
Inspired from Basanta Utsav celebrations in Santiniketan, Bengal, over 250 students and teachers of Tagore School of Performing Arts and its branches in Sonari, Telco, Kadma, Baridih and Cable Town gathered on the premises of Rabindra Bhavan in Sakchi.
"We observed Basanta Utsav today as it was a Sunday. We have been celebrating Basanta Utsav for the past several years ever since Tagore Academy came into existence in the city. Holi is celebrated in a big way in Santiniketan. We have just tried to incorporate certain cultural elements in our programme," said Tagore Society secretary Ashis Chowdhury.
Tagore Society members, teachers and students took out a rally early in the morning. Students also performed on Rabindrasangeet like khol dwar khol, laglo je dol.
In the evening, students also sang several songs of Tagore like esho esho basanto dhara, aaji dokhino duaar, phaguner purnima, neel digontey, dola lagilo, ohe sundoro, aaj khela bhangar khela, among others.
"We usually sing Rabindrasangeet that celebrate nature and spring. All our performances are dedicated to Rabindranath Tagore. We look forward to Basanta Utsav every year," said Chowdhury.
More culture
The Bengalee Association, Jharkhand, held its 80th annual conference at The Milanee in Bistupur, Jamshedpur, with over 400 members from across Eastern India attending it. At Madrasi Sammelani, Sangeet-o-Ankan held a Basant Ritu Sangeetotsav on Sunday.