Coal town localities demand regular sanitisation
Disinfection drive carried out primarily on main roads of Jharia and Sindri, leaving out markets located in narrow lanes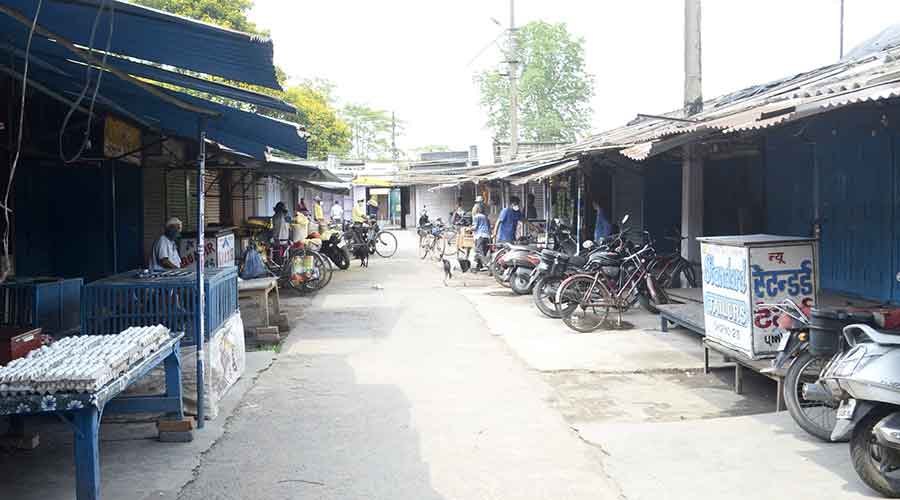 ---
|
Dhanbad
|
Published 06.05.21, 10:39 PM
---
The residents of Sindri and Jharia localities of Dhanbad have demanded an intensification of sanitisation drive in the market places and residential colonies due to the rise in Covid-19 cases in these areas.
Dipak Kumar  Dipu, president of Sindri Chamber of Commerce, has written to Dhanabad Municipal Commissioner, Satyendra Kumar on Thursday demanding sanitisation of Saharpura market which houses around 1000 small and large shops.
"As Sindri is witnessing a large number of new Covid cases on a daily basis, we have demanded proper sanitisation of market as market places are the main source of the virus spread," said Dipu to The Telegraph Online.
Residents of adjoining places like Domgarh, Patherdih, Baliapur also visit  Sindri's Saharpura market.
Dipu has demanded the santitisation of all the residential colonies on a daily basis.
Amit Sahu, president of Jharia Chamber of Commerce has also demanded an intensive sanitisation of the market place of Jharia town.
"The irregular sanitisation being carried out by the Dhanbad Municipal Corporation through large tankers at present are largely concentrated to main road and therefore is of no use as the main market where people visit in large numbers lies in the narrow streets like Gandhi Road, Sinduria Patti, Kapra Patti which have not yet been sanitised," said Sahu.
"We have come to know that that portable sanitisation machines purchased by DMC for sanitising the narrow streets and residential areas have not been used in Jharia yet," said Sahu. 
"The sanitisation work during the first wave of Covid last year was quite better as limited number of portable machines were used quite frequently," he added.
Echoing Sahu's sentiments, Jay Kumar, former council of ward 38 of Jharia said, "The sanitisation drive in our locality at Jamadoba is also confined to the main roads and containment zones while the residential colonies and streets are suffering and even garbage is not getting picked up by DMC, leave alone the sanitisation work."
Repeated efforts to contact Dhanbad Municipal Commissioner city manager Anand Raj failed as his number was found out of range while he didn't pick up the WhatsApp call.