Coal town bus operators face double blow
Lack of permission to operate intra-state and low occupancy causes major losses post-lockdown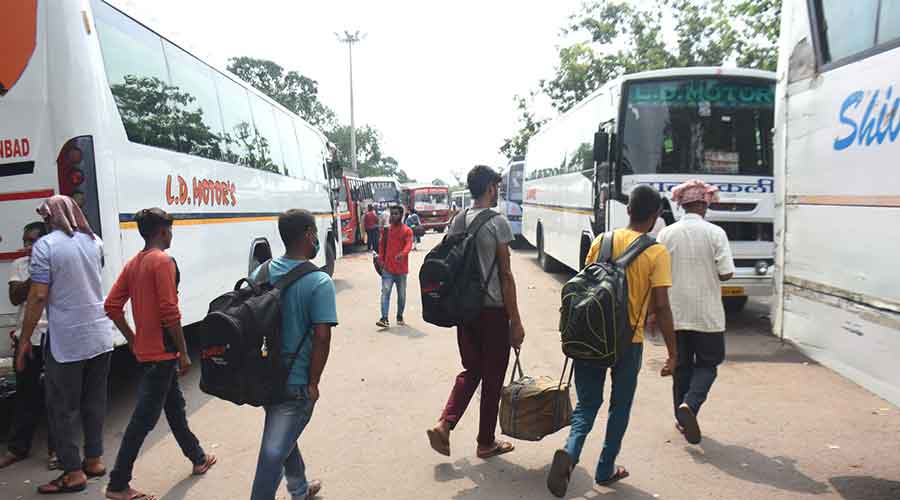 Passengers at the Bus Depot in Bartand, Dhanbad on Monday.
Gautam Dey
---
Dhanbad
|
Published 19.07.21, 08:51 PM
|
---
The dismal occupancy of buses has failed to improve till date, nineteen days after the intrastate bus operations resumed following the lockdown restrictions.
Out of 150 of the total 250 buses presently operating on various intrastate routes from Dhanbad, the occupancy is about 40 to 45 per cent and several are lying grounded due to lack of passengers.
A host of factors, including lack of permission for operation of interstate buses, high fuel prices compelling bus operators to carry out a 10 per cent hike in bus fares and fear of Covid are responsible for the low occupancy.
"The lack of permission for interstate bus operation is primarily responsible for the low occupancy of operational buses," said Sanjay Singh, Vice President of Dhanbad bus owners Association, to The Telegraph Online.
"Many of the people to remote areas of adjoining Bihar working in adjoining districts like Giridih, Jamtara, Godda, used to reach Dhanbad through buses for catching buses to their hometown but since interstate bus operations are lying suspended they are not moving from one district to another leading to low occupancy in buses," said Singh.
"We demand the state government to allow interstate bus operation in Jharkhand as there is no logic of denying permission for operation of buses for such routes in which trains are already operating," said Singh.
"Such is the condition of low occupancy that after completing the trip on several days when fuel cost and labour charges are calculated against the fare income, the fare income proves much lower than the cost," said another bus driver Sunil Singh who is also the joint secretary of Dhanbad Bus Owner's Association.
Further explaining the difficulties he said many of operators who turn to bus depot during the morning for running buses had to park their buses by afternoon due to not receiving even 20 per cent of booking.
"Though, the government has not allowed any hike in fares but the double blow of high fuel prices and low occupancy has left bus operators with no option other than to carry out 10% hike in fare," said a bus operator and added the during the lockdown last year they were given a road tax waiver but this year there is no such announcement as yet.
Sumit Singh, Operator of Bundela Bus Service which operates buses between Dhanbad to various, Bihar districts including Patna, Biharsarif and Aurangabad said, "Majority of bus operators engaged in interstate bus operation are more hit by the lockdown but the others are also not in a good position."