Coal town bridge caves in after flash floods
Repair work stalled due to increase in water level of Barkar river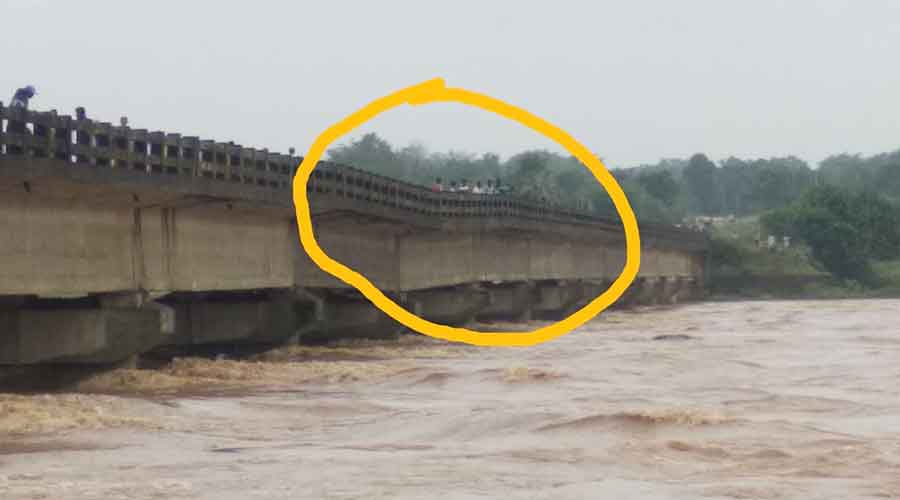 ---
Dhanbad
|
Published 01.10.21, 06:13 PM
|
---
A flash flood in river Barkar caused due to  record rainfall of 309mm in Dhanbad, led to a portion of the  Purbi Tundi -Jamtara Bridge to cave in early on Friday, leading to disruption in traffic.
The incident took place due to strong current of water in the river washing away the soil accumulated for the ongoing repair work and resultant increase of load on the existing pillars. 
The incident caused long queues of vehicles on both sides of the bridge including Baijrabad in Purbi Tundi area of Dhanbad and also towards the Nayanpur area of Jamtara.
Local residents said that that several pillars of the bridge constructed 15 years ago were in dilapidated condition for long and repair work of the bridge has also been initiated recently according to which huge amount of silt has been deposited on the both the ends of bridge to provide support.
Record rainfall caused due to Cyclone Gulab in both Jamtara and Dhanbad however washed away the silt leading to the increase of load on the existing  pillars which also faced the pressure of strong current of water passing through the river leading to collapse of one of pillars during the wee hours of today.
The local residents however expressed anger claiming that no official reached the site of the incident till as late as 9am.
Rakesh Singh, Circle Officer of Purbi Tundi, said, "We have informed the NH division  of state road construction department which on the other hand send its team to site and the movement of vehicles on the bridge has been blocked by carrying out trench cutting on both the ends of bridge."
"As water level is still high in the river the repair work can't be initiated but the traffic has been diverted on the Kardaha route which is an alternative route connecting Purbi Tundi of Dhanbad and Jamtara," said Singh.
Meanwhile, the incessant also led to increase of water level in Maithon dam situated on river Barakar which as per records of the office the Manager Reservoir Operations of  Damodar Valley Corporation (DVC) has reached 492 feet around 3 feet below the highest storage level of 495 feet on Friday morning at around 10 am. In Panchet dam situated on river Damodar, the water level has also reached to 427 feet three feet below the danger level of 430 feet.
Apurba Saha, Public Relation Officer of DVC at Maithon said, "The situation is not good as we have to release 1.4 lakh cusecs of water cumulatively from Maithon and Panchet on Thursday and due to grim situation of flood in Asansol we are further storing the water in dam."