Clay bottles for tourists visiting Dalma wildlife sanctuary
As per rules, plastic is banned inside the park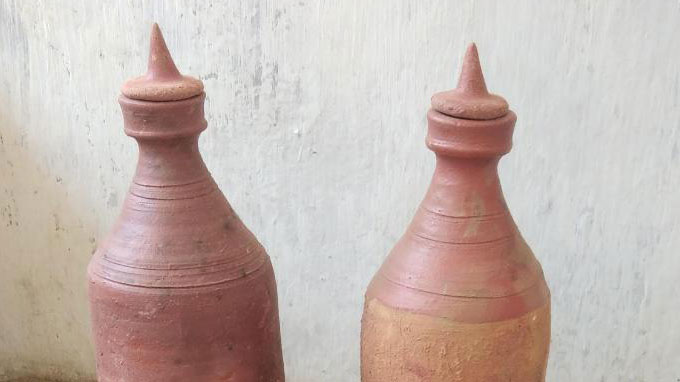 Clay bottles for sale at Dalma wildlife sanctuary
Bhola Prasad
---
Jamshedpur
|
Published 21.12.21, 10:16 PM
|
---
Clay bottles have replaced the ones made from plastic at the Dalma wildlife sanctuary.
With plastic banned inside the scenic elephant abode, 30 km from Jamshedpur, clay bottles made by villagers living inside the sanctuary and its periphery are being sold to tourists. Besides clay bottles, plates and hats made from leaves will also be sold to the tourists from next month onwards.
Honey collected by villagers living inside the sanctuary will also be sold. Tourists purchase fresh honey from villagers in good quantity by paying a pittance. Soon, honey will be sold from the information kiosk in packets and the price will be fixed accordingly.
The 1.25 liter clay bottle carries a price tag of Rs 20.
"Use of plastic is banned inside the sanctuary. Clay bottles made by village potters are being sold to the tourists who flock the sanctuary in peak winter season. Items, including clay bottles, hats and plates will help villagers earn some extra money," said Dalma range officer (West) Dinesh Chandra.
According to him, the price of hats and plates will soon be fixed in consultation with villagers. "Clay bottles are currently being sold from near the ticket counter at Makulakocha. The items will be later sold from the information kiosk which is expected to be inaugurated next month," Chandra said.
The range officer said plastic ban was being strictly implemented inside the sanctuary. "Tourists visiting the sanctuary with plastic bottles are asked to deposit money at the ticket counter. The money is refunded if they deposit the bottles at the counter. For example, tourists need to deposit Rs 20 for carrying plastic bottles inside the sanctuary. This would deter tourists from throwing plastic bottles inside the reserve," Chandra added.
Tourists also throw plastic and thermocol plates inside the 192 sq km sanctuary. So, plates made from leaves are a handy option for them. "Unlike plastic items, clay bottles and leaf plates can be discarded inside the reserve. The effort of promoting clay bottles will also keep the sanctuary clean and tidy. The effort will also keep the environment  clean," Chandra said.
Tourists from Jharkhand, Bengal, Odisha, Bihar and Chhattisgarh flock to the sanctuary in impressive numbers in winter. Villagers can sell tourist-friendly products made by them. Income from the sale will go directly to them.
"We are helping villagers to display their products at the entrance and later at the information kiosk. The villagers are happy with the initiative. More products made by villagers will be sold from next month onwards," a forester said on condition of anonymity.