Civic thrust to bring best out of waste
In a contest labelled Kabad se Juggad the state-owned civic body has so far received over 100 entries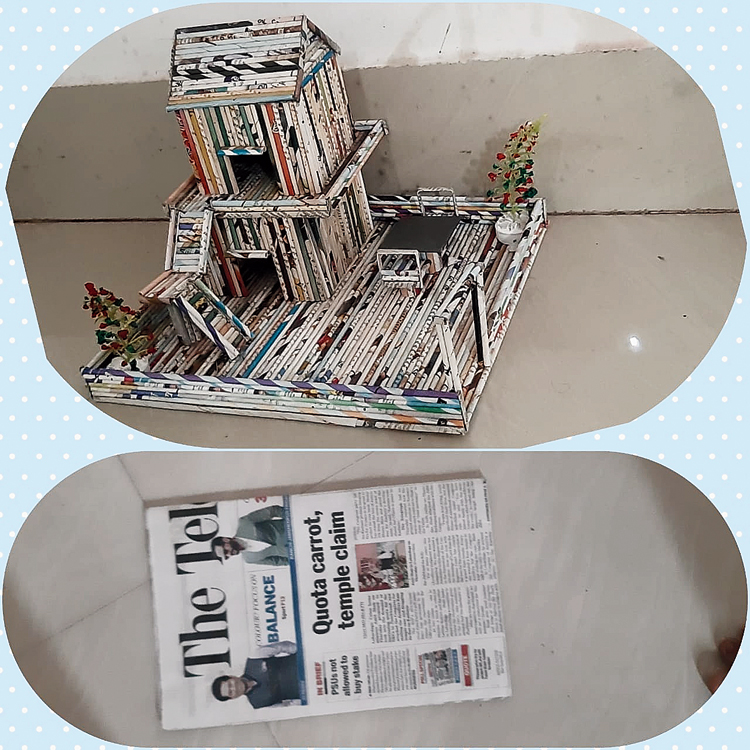 Reuse news: A newspaper stand made from old newspapers is an entry for the contest.
(Bhola Prasad)
---
Jamshedpur
|
Published 29.04.20, 08:17 PM
|
---
The civic body of the steel city has decided to encourage students to creatively make the best out of waste during the lockdown.
In a contest labelled Kabad se Juggad (non-conventional innovation out of waste for students in various categories), Jamshedpur Notified Area Committee (JNAC), the state-owned civic body entrusted with implementing Swachh Bharat Mission across Jamshedpur has so far received over 100 entries.
"We started the competition on April 25 and within a span of a few days we have received over 100 entries in various categories. We wanted to encourage among students and residents the concept of reuse and reduction of waste during this time when they are stuck inside homes during the lockdown provision," said JNAC city manager Sandeep Kumar.
The JNAC has divided the competition into different categories based on the classes of students.
"We have divided the contest into four categories — between Classes I and III, Classes IV and VIII, Classes IX and XII, and above-Class XII. To our pleasant surprise, we received entries even from senior citizens in the above-Class XII section. It shows that people of all ages have taken interest in the competition," added Sandeep Kumar.
Attractive prizes for all categories will be announced later, JNAC city manager Kumar said.
"We have also planned to upload all the pictures of the creative items on our JNAC Facebook page and there will be special prizes for entries which receive the maximum number of likes," he added.
The last day of receiving the entries is May 3.
The JNAC officials said the objective is to reduce waste generation among the masses showing the virtue of the 3 Rs (reduce, recycle and reuse). As of now the city generates nearly 400 tonnes of waste daily that creates problems with designated landfill sites getting exhausted.
Home surveys
East Singhbhum has become arguably the only district in Jharkhand to have completed the house-to-house survey held to identity persons with overseas, domestic or inter-state, inter-district travel history. "We finished the house-to-house survey in all the 11 blocks on Wednesday and submitted the data to health officials and the deputy commissioner," said East Singhbhum additional district magistrate (law and order) N.K. Lal.