CAA: The sound of division bell
Coal town's Shaheen Bagh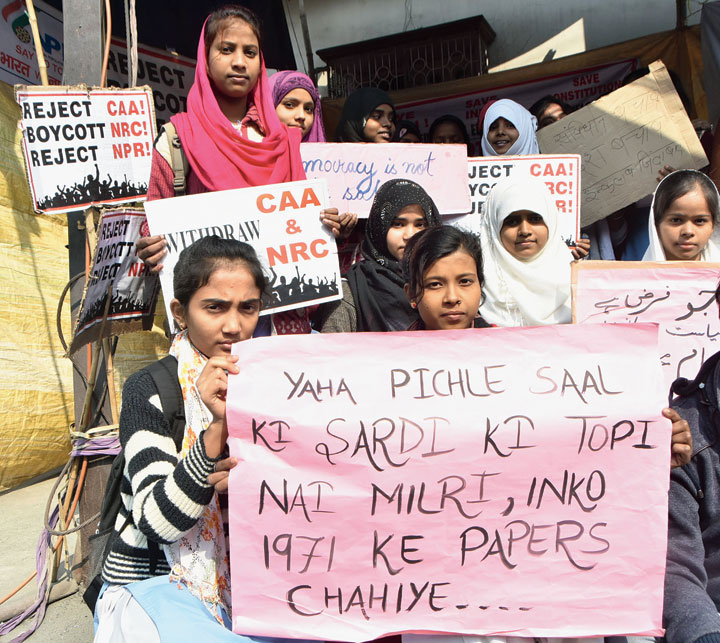 ---
|
Dhanbad
|
Published 13.01.20, 08:41 PM
---
Saif Arzoo, 22, is pursuing his PhD in nanophysics from Vinoba Bhave University in Hazaribagh, but research is the last thing on his mind now.
The 22-year-old is participating in an indefinite dharna against the Citizenship (Amendment) Act (CAA), National Register of Citizens (NRC) and National Population Register (NPR) organised by a group of Wasseypur residents at Ara Mor, about 5km from the Dhanbad district headquarters, since January 2.
The sit-in, though smaller in scale, is similar to the one at Shaheen Bagh in Delhi where anti-citizenship law protesters have been demonstrating for almost a month now.
"Crores of highly educated students are jobless across the country, but the BJP-led central government is busy taking steps to divide people in the name of caste and religion," Arzoo said at the site of the dharna that entered the twelfth day on Monday.
On what he thinks is wrong with the CAA, Arzoo said: "It is against the right of equality guaranteed by Article 14 of the Constitution. The act seeks to provide citizenship to some people of our neighbouring countries such as Pakistan, Bangladesh and Afghanistan and leave out others on the basis of their religion."
Md Shahid Ansari, 25, who is undergoing vocational training from Jamshedpur after graduating from PK Roy Memorial College, came back to Wasseypur on January 9 to take part in the dharna.
"Our GDP growth rate has slipped to around 4 per cent from 8 per cent. The country figured at 103 on the global hunger index — way behind Pakistan and Bangladesh —but the government is busy rechristening the names of cities, towns, streets and monuments," Ansari said.
He said the CAA-NRC-NPR combine was the BJP's way to divert attention from real issues affecting common people.
Amir Shahid, 25, a final-year student of BTech in mechanical engineering at Rabindranath Tagore University in Madhya Pradesh, was also spotted at the dharna.
"I came back after writing my eighth semester exams. I feel the CAA and the NCR are the government's way to cover up its failure to address economic slowdown, industry closure, unemployment and price rise," Shahid added.
He said the BJP-ruled central government is playing with the emotion of people after failing to fulfil its promises on bringing back black money and providing jobs to more than 2 crore people.
Md Shabbir, 23, a student of BA (history) honours in PK Roy Memorial College, said he never faced any discrimination on the basis of religion in schools and colleges.
"Things started changing after 2014 with the renaming of cities and towns, abolition of triple talaq and the revocation of Article 370. The atmosphere has been completely vitiated now," he said.
Social activist Haji Zamir Arif, against whom police have lodged an FIR for taking out a protest march on January 7 without due permission, said, no people's representative had visited the dharna site to talk to the protesters who had been braving the severe cold for days.
"We are thankful to the Hemant Soren-led state government for lifting the sedition charges and request him to drop other false charges against me for taking out the protest march. It was a peaceful march and no inflammatory speech was made by anyone," Arif said.