Cinematography session for Dhanbad varsity students
Renowned camera persons like Shubhra Datta, Mukesh Srivastava explain aesthetics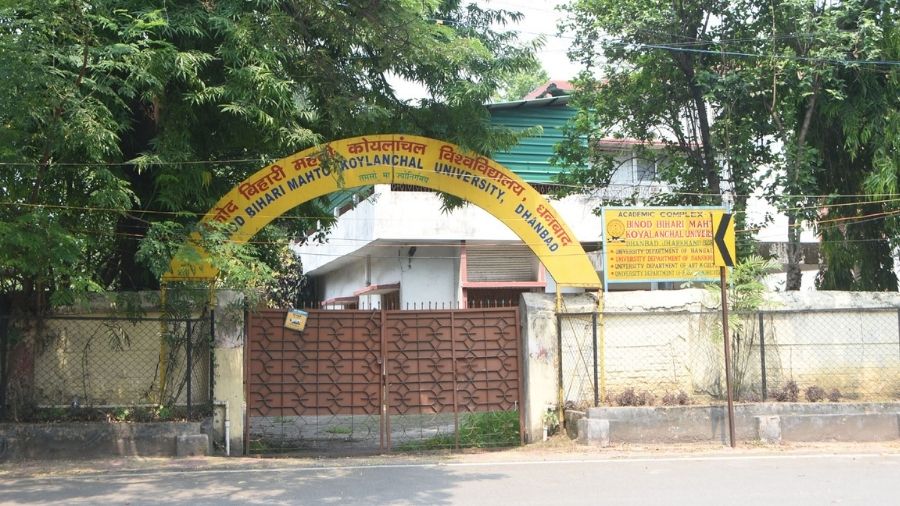 The Department of Mass Communication inside the academic complex of Binod Bihari Mahto Koylanchal University at Luby Circular Road in Dhanbad on Friday.
Picture by Gautam Dey
---
Dhanbad
|
Published 04.06.21, 09:56 PM
|
---
Renowned cinematographer Shubhra Datta on Friday conducted a special online session on aesthetics of cinematography organised by the mass communication department of Binod Bihari Mahto Koylanchal University (BBMKU) where she opined that clicking a black and white photograph or shooting such a movie requires much more effort than their coloured counterparts.
Chief speaker Datta, addressing around 30 students, said that a black and white photograph requires much more attention to light adjustment and cinematographers of the era were no less talented than ours and rather more skilled than us.
The faculty of DA Film School explained the gradual evolution of cinematography right from the silent movie era to talkie films to celluloid films and finally to the present era of digital cinema.
During her hour-long session, she also explained different aspects of cinematography like lighting, framing, composition, camera motion, camera angles, film selection, lens choices, depth of field, aperture, zoom, focus, colour, exposure and filtration.
Drawing a similarity between aesthetics of cinematography and photography she said while in still photography there is focus on a single frame, in cinematography the focus is on a series of frames moving one after another creating an illusion of motion.
"During the silent movie era 12-18 frames were filmed per second but with the sound addition in films the idea of 24 frames per second was brought into practice to create a satisfactory level of realistic motion," said Dutta.
While explaining the effect of lights in cinematography, Datta talked about the significance of natural light, hard light, and blue light, saying, "A scene shot during morning hour of 7am to 9am when the light is comparatively less intense can't be shot at around 12 noon when the sunlight comes on head and creates a different shadow."
Dhanbad-based renowned photographer, Mukesh Srivastava during his address as the guest of honour said that that the core of cinematography is photography and the basic principles of both are almost the same.
"Cinematography is the art of photography and visual storytelling in a motion picture or television show," said Srivastava, who is also the president of Dhanbad Camera Club.
Further cautioning the audience against misinterpreting videography with cinematography he said, "While videography is primarily about recording an event or capturing or recording the proceeding, cinematography is more about art and science of making a movie."
"Cinematography is more creative and intertwined with the art of storytelling," added Srivastava.
BBMKU  Vice-Chancellor Anjani Kumar Srivastava while inaugurating the session said "With the continuous upgradation of technology, cinematography and photography are changing day by day but the aesthetics remain the same."
Head of Department of Mass Communication, Mantosh Pandey exhorted the students to keep pace with rapid progress of technology revolutionizing photography and cinematography.